8 March 2023
Can tech fix healthcare worker burnout?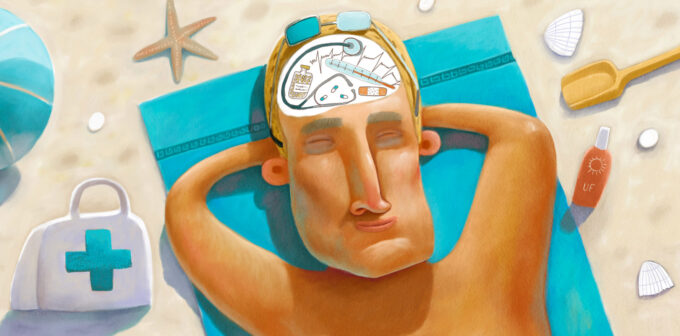 Burnout and moral distress in healthcare workers have never been more pressing than now, with one expert in healthcare workers' wellbeing saying workplace managers needed to be conscious of the trauma of the last few years.
Asked in a Wild Health webinar last week whether we were in danger of seeing a "mass post-traumatic stress event" in healthcare workers, Dr Bethan Richards, Australia's first Chief Medical Wellness Officer and head of rheumatology at Royal Prince Alfred Hospital in Sydney, acknowledged the possibility.
"We need to recognise that the world has been through a traumatic event with the covid pandemic," Dr Richards said. "Our healthcare workers are exhausted and the burnout issues we've had for a long time have been amplified.
"We have not seen the full impact of that yet and for many healthcare workers, the covid pandemic is not over.
"We know that burnout is associated with a decrease in the quality of care that we provide. We know we see an increase in errors, less patient satisfaction, and less compassion when the healthcare workforce is fatigued. There is an increase in depression and anxiety in the workforce.
"We need to be on the front foot – giving people better access to leave, improving rostering practices and giving people time to recover."
Wellbeing has taken over from pay as being the most important thing to healthcare workers when rating their workplace setting, with close to 95% in a recent survey putting their happiness above their bank balance.
Dr Sean Gallagher, director of the Centre for the New Workforce at Swinburne University, said the impact of the covid pandemic on the healthcare workforce was to amplify already existing problems and had whetted the appetite for flexible working arrangements.
"Three in five healthcare workers are prepared to forgo a pay rise for better work-life balance," Dr Gallagher said.
Flexibility of work settings is seen as key to that improved balance, he said, with three out of five healthcare workers wanting flexibility.
"Flexible working arrangements are not seen as an end in itself," said Dr Gallagher. "However, it is seen as a means to an end – wellbeing and work-life balance."
That flexibility has become desirable, largely thanks to the covid pandemic.
"We've had a taste of something and our eyes have been opened," said Dr Richards.
"The younger generation of healthcare workers coming in see flexible working, and particularly flexible training, as a priority."
Colleen Vandy, director of nursing and midwifery at Gosford and Woy Woy hospitals on the NSW Central Coast, said managing the gap between the "haves and the have nots" was a challenge.
"Obviously not all healthcare roles can be done from home," she said. "We have to be mindful of avoiding that language of 'haves' and 'have nots', perhaps by talking about work-life balance versus work-life integration."
Dr Richards said it was important not to conflate the concepts of "resilience" and "wellbeing".
"When we measure 'resilience' in our healthcare workers 70% of them are in the top three tiers," she said. "And yet we still see 50%-60% burnout rates.
"If resilience training is the only strategy an organisation uses, then you will never address wellbeing.
"You have to have a way of identifying the 'pebbles in the shoes' of healthcare workers. If you're relying on anecdotes or waiting for something to go wrong then you will lose people to burnout.
"We need a preventative approach, and there are low-hanging fruit that can immediately improve workforce wellbeing. Ask your people 'what is one thing I can do to improve your workplace environment', and then act on it."
Dr Richards cited the example of replacing broken keyboards in one department as one measure which instantly improved wellbeing levels.
Technology is advancing to help health workforce managers to understand their employees' wellbeing needs and how to provide them.
DXC Technology's Coppelia Rose said covid had shown that the "back end" of practice management technologies – financial systems, human resource systems, rostering and leave programs, for example – had suffered from an emphasis on developing "front end" patient-facing technologies such as electronic medical records.
"We've seen a gap emerging around workforce management solutions," she said.
"There are two key areas where technology can help. The first is in competencies – who can do what, skills datasets, career assignments, rostering. It's important that people have competencies that fit their role – if they do, they provide better care and a better workplace culture develops.
"The second area is in talent management," said Ms Rose.
"Wellbeing is improved by having control over your own role, by succession planning, by having development opportunities and goals. This also includes recruitment, onboarding and employee engagement.
"You can't just provide a yoga program and hope everyone will do it," she said. "We have to work out what it is that every worker wants for their own wellbeing, and the technologies are evolving to help organisations do that."
In the end, said Dr Richards, healthcare workers themselves are the organisation's most valuable asset.
"Wellbeing needs to be a strategic priority," she said. "We need to dedicate resources to finding out what are the issues, how do we measure it, how do we address it.
"We don't need to reinvent the wheel. We need to ask the right questions."