23 March 2020
A week in COVID-19 mayhem for doctors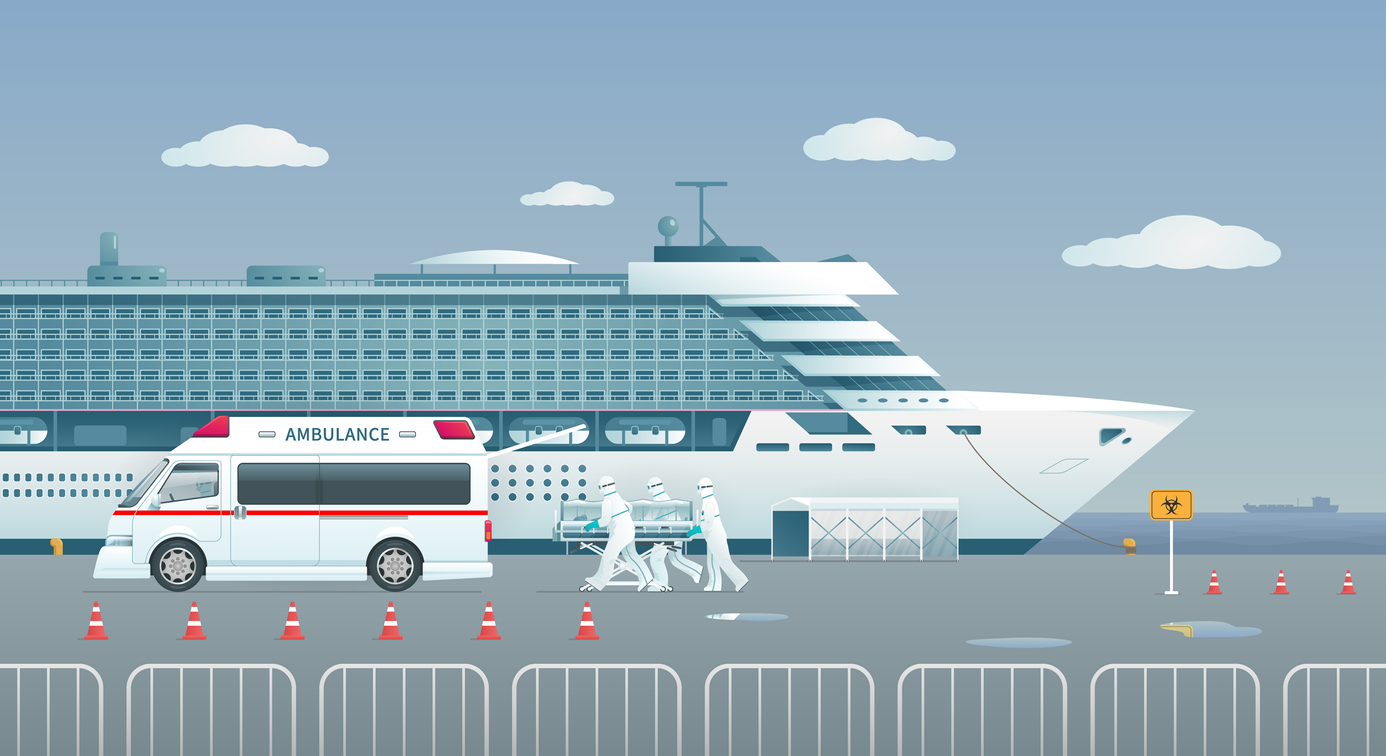 This was our Saturday post for our daily GP newsletter, but interestingly, many of the stories relate to innovation created by COVID-19. Other stories, like the NSW Health Cruise Ship debacle, are just a bit bizarre
NSW Health cruise ship debacle and more…
Note to NSW Health Department: Cruise Ship = DANGER.
NSW Health surely put an end to whatever confidence the public had left in the various Australian government's capability to manage the COVID-19 crisis yesterday, when they approved the cruise ship Ruby Princess, which docked at  Sydney's Circular Quay last Thursday, to let all its 2647 passengers and 1148 staff wander off into the wilds of Sydney without any checks for COVID-19. This, despite the fact that the ship's doctor had already identified 13 patients with flu-like symptoms. Twenty four hours after the doctor confirmed 13 flu like cases, tests confirmed at least four passengers positive for COVID-19. In that time, there was no communication to the passengers or staff. 4,000 horses had literally bolted. Now NSW Health is saying it has at contacted all staff and passengers via sms and asked them all to self isolate (where ever they are).
After 24 hours?
It's hard imagine a bigger screw up from a State Government Health Department. A department spokesperson  offered the excuse that the ship was "low risk" because it "had only cruised around New Zealand". What the spokesperson didn't say  was that 20% of the passenger manifest comprised US citizens and another 15% from other countries around the world, and all had left  from Australia originally, with enough time to have been pre-infected with the virus. So far there isn't much press investigation into how the NSW government could have gotten something so disastrously wrong, but I guess we can expect it soon. Federal Minister Greg Hunt wouldn't enter the debate when talking the ABC on Saturday, simply saying he is pleased the NSW government has accepted and will implement their advice on handling cruise ships. Wonder what that was? "Use your brains?". Apparently they had a stand up phone brawl. If you can get hold of the interview, listen to Minister Hunt's tone and delivery. He's not a happy Federal Health Minister. There's no question that NSW's screw up is going to reflect on the credibility federal effort as far as the public is concerned. That before Sunday's mix up between the Feds and the States on schools, shutdowns and lockdowns. Good coverage of this story in today's Sydney Morning Herald HERE.
Since, we have also learned that three other cruise ships were allowed to dock in Sydney, all let their passengers go without checks, and each ship has a few COVID-19 cases.
Meanwhile in Chile, France and Italy cruise ships go awry with ozzie passengers, even doctors 
An Australian CPD cruise is now stranded in the South Pacific, carrying nearly 100 doctors, nurses and dentists – like they're not needed on deck in Australia – after Chilean authorities refused the ship permission to dock as a part of their COVID-19 protocols. The CPD cruise was meant to finish in the Chilean city of Punta Arenas after touring Antartica and the Falkland Islands for 17 days.  The  RACGP CPD accredited program was focused on emergency and  respiratory medicine. There are no reports of  passengers or crew being infected with COVID-19 but the immediate fate of the ship is not known. Full story in Aus Doc HERE .
Meanwhile, some Australian passengers on the Costa Luminosa cruise ship moored off Marseille in France, where some passengers have been diagnosed as COVID-19 positive, will be let off after nearly a month of authorities trying to sort the issue out. They will be allowed to fly home. But a second category of passengers is being rejected for entry into France and the ship is set to sail on to an Italian port. Those left stranded on the ship include 39 Australians. Full story HERE
A 10 minute pin  prick test for COVID-19?
When I got sent this link I asked the source if it was fake news. The source is reliable and said she didn't think it was. If it's true it's pretty amazing.  It's a ten minute pin prick test, can be done easily by healthcare professionals and trained non professionals, and it commenced shipping from the US yesterday. We wonder if the Federal Government's onto this yet. We haven't had time to check this story, sorry. But here it is anyway.
Patients behaving badly and what you might be able to do about it
Panicked patients, many asymptomatic, started flooding GP practice premises about 9 days ago with reports of that the initial onslaught was creating chaos for practice managers and doctors. PHNs and some practice managers started recommending to practices  to turn their online appointment systems off, which,  through patient facing apps, are in the hands of over 10 million patients in Australia (mainly through HealthEngine , HotdocWithin and MedAdvisor). At the time the apps  were being used at a higher rate than ever before as patients strained to get rare appointments.
Within one  week the two major appointment engines, HealthEngine and Hotdoc had developed modules to add to their appointment apps which practices could turn that pre-screened all their appointments for COVID-19.
The next issue was that some patients were lying  about their symptons on their pre-sceening to still get in for an appointment. Should have seen that one coming.
HealthEngine reported that up to 10% of COVID-19 prescreen bookings had unreliable information from the patient.  The appointment engines, again, pretty quick off the mark, identified the issue via feedback loops with their practices and started putting in extra audit measures to catch the cheaters out. Full story HERE in Medical Republic.
Some doctors, annoyed at some patient's behaviour were wondering what they could do manage patients who weren't being honest with them.  In THIS story in Aus Doc on Friday, Avant, the medical indemnity group, advised GPs that they "were allowed, but not compelled, to breach privacy laws to report patients who are breaking COVID-19 quarantine rules and putting others at risk".
That's getting into tricky territory. Current state government regulations drawn up for the crisis, stipulate that a patient can be imprisoned for up to six months or fined up to $50,000 for not obeying 'self isolation' rules or instruction.
If the NSW state government decided it was OK to let nearly 4,000 people off a cruise ship in the middle of Sydney, when some were already diagnosed with flu-like symptoms, it feels like any patient copping retribution along these lines from any government   at the moment, would be looked dimly upon by the general public.
When communication from the top is so bad, people get confused and lose trust. When trust goes they naturally take things into their own hands as they are scared and insecure. This mostly isn't abnormal behaviour ifrom patients.  It doesn't feel right at the moment to be pointing the finger at the wayward patients and even 'the shopping centre hoaders' for panicking (except those reselling goods online of course).
Government communication is confusing and  its contributing to panic.
By the way, here is a really great BLOG from a GP of their early experience of when things first started going off the rails. It really hits home with what GPs are facing on the frontline from a personal perspective.
Speaking of hoarding, will the big pharmacy chains please set a better example to their customers
I went to my local family pharmacy at 11am on Saturday morning to get one Ventolin puffer for my highly asthmatic, and at times not so responsible son. Nothing. I went next door to an unnamed and very large pharmacy chain – plenty available. While thankful, the reason seemed to relate to a story done by Medical Republic earlier this week HERE
The story identified that, while the drug companies had plenty of stock, many of the larger pharmacy chains had moved early and started buying up big on the major drug brands – both prescription and non prescription. Within a few days it was becoming clear that rural pharmacies and small independents were going short on key medicines – Ventolin being one of them.  Drug makers like GSK were the first to recognise the problem and started managing the problem from their end by implementing their own form of rationing. But once the word was out, the rush started on all the companies. Most of the pharma companies are reporting that there is plenty of supply, and it will be slowly restored over the coming weeks, as they start to manage distribution in a manner that makes certain the rural groups and small independents get supply too. STORY HERE
The  government finally got around to the problem on Friday and implemented a set of rules for pharmacy dispensing with a view to making sure things were going to catch themselves up over the following week. It included a ban on patients buying more than one item, like a puffer, and more than one month prescription for any one drug product. That story  HERE. It is interesting though, and a little affirming possibly, that most of the major drug manufacturers were onto the problem and doing their bit from as early as mid last week.
Expand telehealth and drop state regs on scripts to help self isolators
There were quite a few stories on the new telehealth items – you can get the new items HERE from Medical Republic if you haven't caught up yet – and how they rapidly started to help in GPs managing patient flow. But very soon the call was for  expansion to what are still quite restrictive rules to allow broader use of the the phone for GPs, – either COVID-19 positive, over 70, or a returned traveller (just thinking out loud but that's at least 4,000 calls coming in over the next day or so we guess from the Ruby Princess passengers at least).
Some GPs high up in the RACGP and connected to the key health leadership 'war cabinet of health ministers' the Australian Health Protection Principal Committee (AHPPC), say that they're hopeful the government will see sense sooner rather than later and widen the telehealth rebate scope to make things even more manageable as the crisis escalates. Story HERE. Many are also saying that the immediate and impactful use of telehealth, along with audited data to support the impact from booking engine data, is going to make it a bit harder for government to resist the introduction of wider use of telehealth by GPs into the future.
Meanwhile, a few forward thinkers in the ranks of those GPs with their head around digital health and electronic prescribing were cogitating on the problem of the isolated patient in a different way. If isolated, how do you get a script from the doctor and to the pharmacist, when technically today, the only way you can do it is with the original paper script? But that would, again technically, be not legal. No wonder we are all a bit confused.
Some smarter operators got in front of this with a delivery service based on good faith pharmacists who dispense the script and send to a home via courier, if the patient faxes or emails them the script electronically .  Story HERE .
State regulation still dictates that the original script be reconciled at the pharmacy for the transaction to be legal. And this is clearly impractical at the moment. Dr Nathan Pinskier and Dr Rob Hosking, past and present heads of the RACGP Expert Committee on Practice Management and Technology, wrote and advised the government to immediately relax the state legislation, allow GPs to send the bar code from their patient management system to their patient following a telehealth consult (via email or photo), and then allow the patient to do the same with their pharmacy with appropriate photo ID. It is a really simple solution and it can be implemented literally immediately. If it was no patient in isolation will have to  break the rules to get their scripts filled and they can stop worrying about what should be a minor issue. And the more robust token based electronic system which will allow GPs to send scripts to patients phones automatically from their PMS systems, and the pharmacy script exchanges,  is being developed now anyway and will be ready within 12 months. Let's see what the AHPPC does with this neat idea. Full Story HERE
No more teachers, no more books…no more drug reps? Whaaaat?
School kids are salivating at the prospect of a full shutdown of schools, but how are GPs going to go without their lunchtime chats, drug updates, and complimentary lunch? We guess they aren't giving it much thought at the moment, and the pharma companies have guessed that as well. This week all the major pharma companies mothballed all their face to face sales forces for the foreseeable future, all citing the need for doctors to be at the frontline without any interruptions, and, perhaps more importantly, putting a stop to the risk of infection spread from one rep to many doctors, and, in the end, to any rep at all. For all the pharma companies come in for a lot of criticism from the medical fraternity, this was the second thing they moved on very quickly this week. The first was that many of them started recognising early signs of drug wholesaler hoarding and responded almost immediately by putting in protocols to stop it. OK, both things are pretty obvious, and there's even legislation on their drug supply responsibility which indicates they should act is way. But they did, and they did it quickly. They also can't go to any medical meetings or hold any medical meetings themselves so in a sense, they are pretty stranded for a few months in terms of any meaninful face to face GP engagement. The rep withdrawal means they now have nearly 1800 sales people with virtually nothing to do. Both these things will severely strain the capacity of Pharma's in communicating for now, and most are turning to non invasive, virtual methodogies to get the most important updates out. Medical Republic understands that some are even thinking of putting their forces to work to help doctors at the frontline in other creative ways. We will wait and see. At least they aren't standing them down like Qantas. But that's another story. Full story in Medical Republic HERE
If you think you're going to a medical conference still, you're not…not for now, anyway
We stopped updating our list of conferences that have been cancelled on Thursday. Everything has or is going to be cancelled.Even small intimate events. As of Friday we're all officially stranded now on a desert island (Australia) – no more international travel for us.  It could be worse. You could be on a CPD cruise off the coast of Chile with 100 doctors, nurses and dentists, with nowhere to pull into port. It is interesting to have a look at some of the early movers though (CODA and the GPDU group were first to move in medical, and why they moved early, and some of the desperates who hung on to the grim end. One surprising group that waited and waited was the Thoracic Society of Australian and New Zealand who were due to meet at the end of April. Now there's something we're not sure even NSW Health would go for. Put all our best respiratory specialists in one room for a few days during the COVID-19 crisis and pray on one has it going in.
Most meetings have just  been postponed for now, which is going to make for a pretty hectic October through to December conference season, this year, if COVID-19 lets us out that early. Some have delayed one year, and there is usually always some pain in that, especially if it is a medical society or college. One group, which I won't name, will forgo over $1m in sponsor fees this year, nearly all of which they were putting into a research fund for their specialisation. That will hurt a little. On the flip side, the pharma sponsors find themselves $1m up in marketing revenue for the time being. Full stories HERE and HERE
Wild Health Summit for June 2 at Collins Square in Melbourne has been moved to November 2 at the same locations
What GPs are saying 
We surveyed  GPs during the week to get to the bottom of some burning questions like – do they think the Federal Government is handling this very well (No – 70%, we might have guessed, but good to be sure), how much time are they  spending on COVID-19 amid all your other work on an average day (about 2-3 hours per day), and what percentage of their  patients are just confused and scared (lots). This week's survey results HERE. We will survey again this coming week.
That's (not) all folks – some links and two  great podcasts 
Here's just a few good links to resources and we also recommend you listen to Dr Harry Nespolon's rapidly growing in popularity 'Going Viral' daily podcast. We publish it daily at 4pm at the moment, and the good folks at HealthEd (who by the way do the biggest GP education events in Australia, but are on hold for six months now so spare a quick thought for their challenges at the moment)  publish it a bit earlier. HealthEd were the ones who somehow convinced the president of the RACGP that he could find just that tincy extra bit of time in his unbusy life to interview someone once a day on the most interesting topic on COVID-19. Harry is a pretty dedicated, fast (and) blunt talking, hard working, and passionate GP leader. In his spare time he is the president of the RACGP. Seriously, his podcast is great. Friday's one HERE. All episodes on HealthEd, HERE
The other podcast we recommend is the Medical Republic's weekly podcast  HERE – this week, interviews from the frontline of COVID-19
The two best resource lists we could find:
Eeek
This URL resource list from Australian Doctor, our (nominal) 'arch enemy' (but pretty good outfit of medical journos)  is HERE It's the best list we found of links.
This one from the best digital health daily newsletter in the country (actually the daily only one, but a good one none the less) PULSE IT, on all the digital health developments and resources around COVID-19 for GPs and other doctors, HERE
PS. PULSE IT is subscription only email newsletter, but you can quickly take a free trial sub if you want to view this useful list now. I'm asking them Monday if I can publish it without the need for a sub which Im pretty sure they will.
Oh, and if you're still there, have a look at how COVID-19 is unfolding in the medical meme scene HERE
Thanks, and see you all next Saturday with what seems likely to be another week of mayhem. Please send ideas, comments, tips et al, to jeremy@medicalrepublic.com.au.