16 June 2022
Could AI help deliver Labor's aged care pledge?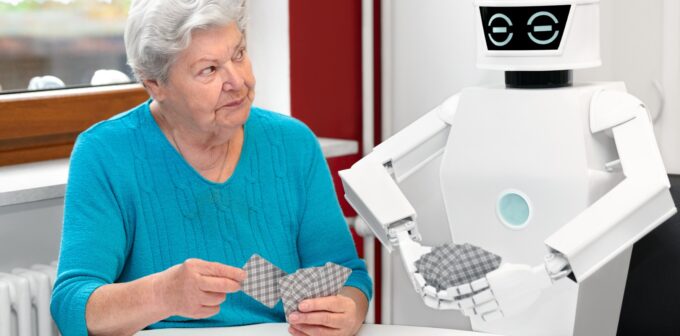 Aged care facilities could soon have mandated minimum staffing levels and require at least one registered nurse to be on-site all 24 hours a day, seven days a week. But where will the staff come from?
While guaranteed staffing levels – plus a hefty wage increase – may be enough to convince some nurses to return to the struggling aged care industry, the growing proportion of elderly Australians makes this a tricky prospect.
Responding to an Australian Nursing & Midwifery Federation member poll in April, more than 3000 respondents indicated they would work in the aged care sector if there were a registered nurse on-site 24/7, guaranteed minimum staffing levels and decent wages.
In the lead-up to the election, Labor promised to implement the round-the-clock registered nurse requirement, as well as a requirement that every Australian in aged care will have 215 minutes of care per day.
Labor says it will do this by backing a pay rise in the sector, as well as funding 20,000 extra university places for aged care nurses and care workers.
The party has already committed $2.5 billion to aged care over the forward estimates.
Jason Waller, CEO and managing director of tech startup Intelicare, doubts that the injection of funds will be a silver bullet for the industry, especially as more Australians choose to receive care in their own homes.
"The big macro issue is that we have a population that's ageing at a rate faster than the tax base that's there to support them and the population base that produces enough workers, so simply mandating requirements is just going to push additional pressure on the system," he told Wild Health.
"We think that there should be greater use of technology to augment the overworked staff and can provide better quality care rather than just more hours of care."
Intelicare offers an alternative to simply increasing staff, particularly in the community-based care sector.
Its flagship system works via a system of smart censors set up around a patient's house or residential facility which monitor everything from doors opening and closing to kettle and microwave usage.
This data is run through an AI which picks up on the elderly person's habits and patterns, and then alerts their specified caregivers if anything out of the ordinary happens – for example, the person fails to get out of bed one morning.
"We don't use any cameras, so we're not watching the person," Mr Waller said.
"It's not Big Brother, it's more like a guardian angel."
While it may seem intrusive to some, Mr Waller did point out that the alternative for many people would be a residential aged care facility, where the monitoring, surveillance and loss of privacy will likely be far greater.
The AI can also pick up more subtle shifts and trends in an elderly person's routine.
One Intelicare customer, a man in his 90s, suddenly began to use his kitchen less at mealtimes.
The AI flagged this change, warning his carers of potential malnutrition. It turned out he had simply discovered a meal delivery service.
"He discovered UberEats and he was ordering Chiko Rolls, his favourite snack, three times per day," Mr Waller said.
"Now, he's over 90 but [eating Chiko Rolls] is his choice, he's able to do that because it's his life and his level of risk.
"But what his carers were able to do was then provide additional nutrition supplements at breakfast and lunch."
Mr Waller also said there were several cases where the AI had picked up on changes in nightly bathroom habits which could indicate a UTI – something that has been associated with increased falls.
"Instead of dealing with the fall, the broken hip and the rapid decline that comes after that, we can treat the root cause," he said.
By notifying care staff about an issue early on, Mr Waller said it would help nurses and patients "get ahead of the game".
"More importantly, by keeping people in their homes for longer under a more sophisticated home care regime, then we can avoid the need for such significant pressure on the residential aged care system at all," he said.