8 May 2019
Could this be Australia's first health software unicorn?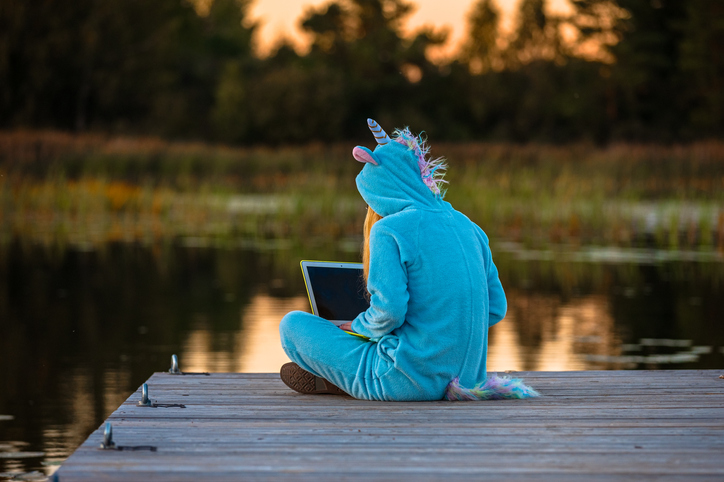 If you had to nominate a list of Australian software health companies that might one day make unicorn status ($1 billion capitalisation) you might at a stretch produce this list and reasoning:
Best Practice (BP) Software – largest footprint of a doctor platform that sits over the most important and interesting healthcare data transactions, given our trajectory from acute to chronic care management, the potential of open APIs and the cloud, and the march of patient power through Apple and other global platforms. And it's part ownership by Sonic, a global parent with lots of smarts, and primary ownership by driven and knowledgeable locals and doctors.
Genie Software Solutions – maybe just edging out Medical Director (see next) because it owns the specialist market, is spending big on the right technologies (cloud, open API, FHIR), is run by people with a lot of experience in cloud transition (MYOB), and is backed by one of our largest private equity funds (ie, they have the intent and the money)
Medical Director, which has many of the same reasons as BP to be nominated, except it is probably not now market leader, and has lost some momentum, though not intent, under private equity ownership in achieving the same goals. It does have a cloud product in market however where BP doesn't. But there are some question marks over its functionality and traction to date.
MediRecords – a dark and controversial horse, but another platform play in the patient management world, this time, the only one I would proffer, other than possibly Genie and Clinic to Cloud in the near future if they keep going fast, with a full working cloud suite that actually works (note: I am a non executive director of this group, which at once makes such a declaration controversial I guess, but what I wonder do I know that I can't say? Only that it works and that's interesting to a lot of new businesses and businesses redesigning themselves for the future).
Anyone else?
Other businesses that come to mind down the road a bit more,  for being interesting platform plays, and having good engagement with doctors and or consumers, include: HealthEngine (mainly a doctor directory and appointments engine, but which hit a snag on privacy recently, and well backed by VC money), HealthShare (things for doctors to make their lives easier including easily accessed patient information, probably our best current specialist directory and a new patient side consultation tool, but which relies for distribution on MD and BP) and maybe Hotdoc, which is mainly an appointments and pre and post patient management play, not  so much a platform as a well executed innovative software integration to the above platforms.
All of these businesses have some potential in time perhaps, but a unicorn in the next few years?
Of course, our largest health software play by revenue is Telstra Health.
What about them?
Some people  will have screwed their faces up in mirth at the very suggestion.
Others with a little more recently updated information about the performance of this group might not.
Telstra Health in the not distant past might have easily won an award for most dysfunctional Australian health software company or least likely to succeed in its current format. Yet from even four years ago, it has always been our largest medical software group by a fair margin, so warrants some consideration in this race.
Conceived originally by Telstra bigwigs David Thodey (since retired), and Gordon Ballantyne (now CEO of Private Health Hospital giant Healthscope), it was an idea born in a different time for Telstra. Back then Telstra had money to burn on inventing a distant and different future for itself, when the rivers of gold that were its mobile rollout, broadband expansion and its deal to keep going with its twisted wire network while the NBN slowly and painfully rolled out, were freely running.
Thodey and Ballantyne were customer focussed managers who were succeeding at the time and could afford a little radical vision. Healthcare is seductive all around the world because in the developed world, and many non developed countries, it is the major spend of government, and a spend growing at astronomical rates with the introduction of digital technology.
Thodey and his strategists looked to diversify into markets that would feed off bandwidth in the cloud where he saw Telstra going. Healthcare, financial services, retail and one or two others were developed as downstream targets to stimulate.
But how to break into health, in a manner that would give Telstra a strategic market position?
Enter Shane Solomon (now working part time with the Australian Digital Health Agency) and a plan that involved acquiring a gaggle of strategic software and digital health companies, many unrelated, but which in the future vision, would one day be all connected.
Solomon went on a $200m spending spree and bought shareholdings (minor and major)  in some 18 companies. Another four or so, which were minor strategic stakes, were added via Telstra's venture group. Total revenues of the group were estimated then to be about $80m, but it was not in profit, despite some assets, such as the pharmacy software business FRED IT, being quite profitable individual businesses.
The crown jewel in the plan back then was Medical Director, the then market leading GP patient management system (PMS). All the acquisitions were a string of pearls and MD was to be the string that tied them all together…hospital EMR products, aged care management products, pharmacy script dispensing products and so on. GPs were the healthcare system hub, where all these other products needed to meet and connect and transact . Best Practice (BP) wasn't far behind MD, and so was also courted by Telstra Health at the time.
And then David Thodey resigned and previous Telstra CFO, Andy Penn was appointed as successor. Penn was never  a fan of small and distracting off-piste projects in markets that Telstra had very little experience or understanding in.
Remember, although Telstra had spent $200m for their now marketing leading software position, Telstra had revenues even back in 2013 of nearly $26 billion. Telstra Health was a flea on the back of Australia's telecom elephant still.
Penn looked at the scoreboard did the forecasting on the current numbers for the whole business and examined the relative possibilities of such a business. The whole project was then stopped stone dead where it was – at that time, in the middle of due diligence to acquire at least 50% of MD. With Telstra out of the bidding, MD quickly fell to a stalking private equity player, Affinity, for nearly $150m.
From that point on, things were never going to be easy for Telstra Health. The various units had been kept deliberately quite separate until the plan could be finalised, and were either nonplussed at their owner, or at times, openly hostile about being held back. And now their owner openly didn't seem to want them at all. Morale plummeted across the groups, especially those majority owned by Telstra, most of whose founders had left (many were still quite small and tight family companies). People left, and talked. In one infamous article published by The Medical Republic medical newspaper, one prominent industry analyst was quoted as saying what a lot of people were thinking – "Telstra Health was now a cluster f*&k". It was going to end up as a fire sale, if any good people were left.
Indeed, things did look bad from the outside. You certainly wouldn't have been betting on some sort of phoenix of the original plan, especially after Shane Solomon, the CEO and chief vision cheer leader, was shown the door not long after the MD shutdown, and interim operational Telstra people, smart though they were, were given the reigns of business.
But nothing happened. No fire sale. Not even much of an off market set of conversations with likely parties.
Which was possibly the smartest thing Telstra could have done at that point. There were so many different properties, in not great condition or average condition (because the secret of this plan was in the future 'connecting of the dots', morale was plumbing new depths and talent was abandoning ship), that it would have been a near impossible task.
Penn, either lucky or smart, thought he needed to hold and think a bit longer. He needed a new plan. And he probably didn't have that much to lose as the assets were so miniscule in the scheme of things. But what plan?
At this time, future Managing Director, Professor Mary Foley was semi-retired. She had had  a distinguished career in health academia and administration . She was National Health Practice Leader for PwC Australia, and Chief Executive of St Vincent's and Mater Health Sydney. She is a former Telstra NSW Business Woman of the Year. And she spent over a decade as the Director General and Secretary of Health for NSW. Not a bad CV for someone to run what might one day become our largest local digital healthcare company. After all, NSW Health is in essence a $20billion operation, and digital, even back in the day was a major component of that.
She was approached originally by a  Telstra Group Executive as a potential board appointment to Telstra Health. But one conversation led to another, and another, and Penn ended up offering her the role of Managing Director. She saw the role as a fascinating challenge.
After Foley was appointed everything went very quiet. Except of course for the noise around things that were still going wrong such as the cancer registry, the poster child of things going wrong for the company. Foley came on board well into that project.
Foley was under some pretty restrictive guidelines from Penn but nonetheless went to work on some sort of regeneration.
The ground rules were simple: no acquisitions, identify and build your key assets if you can, and you can have investment to do that. Other than seeing some biggish stands at digital health industry events, and the odd announcement in Pulse IT, about a contract win here and there, and the usual noise on the cancer registry fails, not much else was heard from Telstra Health. Just try to find any commentary on the group in the last two years in the Telstra annual reports. Anything you find is in six point type as a footnote on some spreadsheets dealing with long tail reconciliations of investments.
For some time I tried to get an interview with Foley to see what was going on. The only insight available was usually from disaffected ex employees. And although that didn't paint a pretty picture of a bright possible future, the group still constituted our largest software health company by a very large margin.
Then early this year I got a call up. It was so far into the future – in mid April, although I'd been asking since late last year – I almost forgot to turn up.
The meeting ended up being one of the most interesting and surprising of my past two years trying to understand Australian digital health. I fully expected the normal Telstra full nine yards – minder, CEO with script about not much, lots of people being nice, but not doing a lot, and everything was looking up in some way.
What I got was a warm and fascinating chat with a highly engaging, significantly open (despite a media minder on screen at the end of our conference table), and well versed health IT company leader. She knew her stuff in intimate detail (not so much the tech, but definitely the people, the politics, the ecosystem, and the business models).
And Telstra Health was back.
How so?
Telstra Health's revenues for the half year are in the order of $100+ million when annualised. Telstra Health revenue in the first half of FY19 was up almost 50% on the same half year period the previous year. Given that the $80m of a few years back must have been denuded at time by a reasonable amount given the state of the group, and that growth rate, this is a trajectory of revenue growth that is very impressive.
When you add up those PULSE IT contract announcements, the big growth curve is explainable. The Cancer Registry was a $220m contract over 5 years and probably that revenue has only started coming online recently, because it has only recently been built to the satisfaction of its client. Then there are projects like Safescript for FRED IT in Victoria, and potentially Australia wide (it is a Federal Government contract), and then some strange but seemingly true successes you wouldn't expect, in things like the Northern Beaches Hospital EMR project, which is also now online.
But that's revenue, and just a series of contracts. How sustainable is all this?
If you listen carefully to Foley, her strategy and pitch suggest it might be sustainable. In fact, the pitch is a bit better than just sustainable growth. It goes a bit like the following:
Telstra Health bought people and expertise, not just businesses Foley tells us, and says that in Healthcare, particularly in the highly pluralistic healthcare ecosystem of Australia, that is very unique and high level expertise.
The whole in this business was always meant to be bigger than the sum of the parts in this strategy, and even without 'string' acquisitions, Foley has worked hard on that with investments in the best parts of her business – the Cancer Registry, reinventing her hospital EMR, upgrading all her good assets, such as FRED and there aged and community care software, and pitching for work which is additional based on the combined skillsets from all of her companies
Telstra Health, according to Foley has unique "local and on the ground" expertise in digital health build and design. This gives the group a significant advantage she says over groups which are pitching big systems developed outside of Australia, where the factors operating are almost always very different. She says that a lot of healthcare systems in Australia in the past have been "outside in", and quickly people have seen the difficulty in that. She says Telstra Health is "on the inside moving out".
The time is nigh. Apple has declared it wants to be a healthcare company, not an iphone company. It has embraced FHIR. Google has declared similar intent, especially around the healthcare cloud. The world and patients are on the move and Foley feels her portfolio of expertise is in the right place at the right time to compete locally, and even globally based on some of their new projects and developing expertise.
The Cancer Registry, which one would have thought a year ago as a milestone on the Telstra Health brand, Foley is pitching the other way. Yes, it was an inordinately complex project that was underestimated, but Telstra Health stuck with the problems, and has largely sorted a lot of them out. And as a result they now have IP on directories, EMR connectivity and interoperability across a complex healthcare system that no one else has. It's quite a compelling turn around pitch and not without some evidence supporting it.
Foley is an animated, intelligent, knowledgeable and charismatic leader. She understands her market intimately, she's committed in a much more systemic manner than just making money and being successful – she doesn't need to do that, she already did it. And she wants to see her work turn out for the best.
Now the only question would or should be, will Telstra sell or hold.
If you examine Telstra's original strategic intent to get into health, and the nature of this business, it is almost certainly 'sell'.
But that should be a good thing for Telstra Health. Remember, not a single mention in the main commentary of a 100 page annual  (CHECK) report. Telstra Health belongs with a group that can take it to the next level.
One no doubt involving a resumption of strategic acquisitions, and probably some global footprint, over more than just the UK and Germany, which is provided by the analytics and benchmarking group Doctor Foster.
If that happens?
Yes, it could easily be our first medical software unicorn.
Professor Mary Foley will  be talking on "connecting the dots in the Australian Healthcare system" at the upcoming Wild Health Summit at Sydney University Nano Science Hub Theatre on June 25. Early bird tickets coming off soon but if you hurry you can get some HERE. Full list of speakers and program HERE