3 February 2021
From thought bubble to a plan: inside the DoH COVID booking system meeting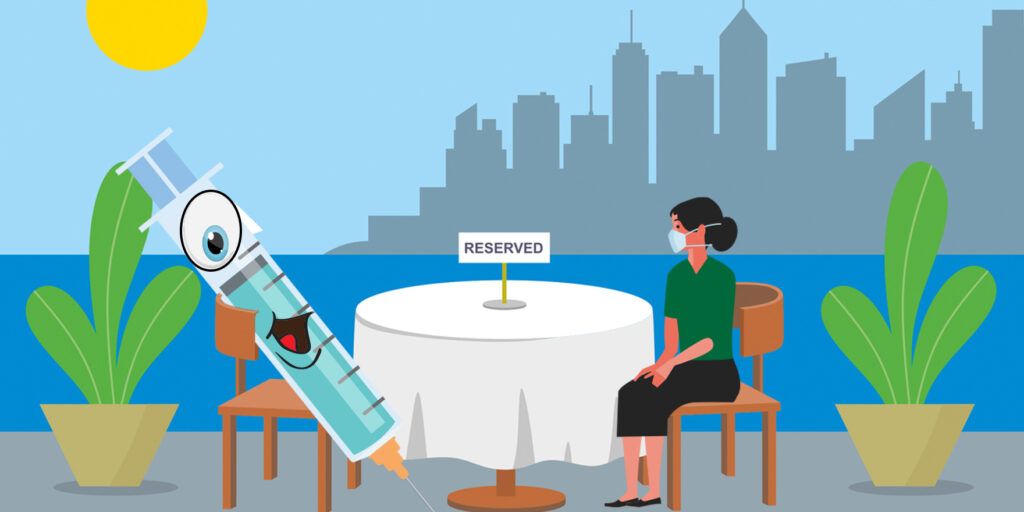 The DoH has been making things up as it goes in terms of its promise to deliver a centralised booking system for COVID vaccinations.
But if even half of what was discussed on Tuesday this week on a national conference call between tech vendors, the MSIA, the DoH, HealthDirect and other interested parties, could be achieved, we would be witness to one of the most agile and pragmatic software solution deliveries by a large commonwealth government department in generations.
In the expression of interest for GPs released on Saturday 25 January, the Department of Health vaguely indicated that practices would need to use a National Booking System that was being developed.
This seemed to defy the logic of using the existing infrastructure of booking engines to do that job. As of Friday last week none of the major booking engines were clear what was going on.
On Monday the DoH released its pharmacist EOI and it had the same message that was given to GPs. Pharmacists "will receive vaccine stock and access to a National Booking System".
The EOI states that the National Booking System is being established to provide a "single point of entry to people who require vaccination", and that its role and relationship with other pharmacy systems will be finalised in coming weeks, with the intention of avoiding duplication.
But the DoH had already admitted there wouldn't be a single point of entry for vaccination for GPs, as it would use the existing infrastructure of the major booking engines to do the grunt work.
Things were looking pretty confused.
There were rumours circulating that the DoH had commissioined Accenture and another consulting firm to develop a master solution (the original National Booking System), but the health tech vendor community all knew that such an approach was folly. It would be reinventing existing infrastructure developed by good companies such as HotDoc and HealthEngine, would take forever to build, and probably would never work properly anyway given the integration complexities involved.
These booking engines, primarily HotDoc and HealthEngine, talk to about 85% of all GP clinic practice management systems.
But none of them talk to pharmacies or hospitals.
So what booking system are pharmacies and hospitals and their hospital hubs going to use?
And how will the government be able to co-ordinate supply to all these points of vaccination without some form of oversight on which vaccination channel is working and which needs more or less vaccine?
There is currently no system that is able to co-ordinate supply and distribution between all the points of vaccination – hospitals, GPs and pharmacists.
So yesterday the DoH got on a national call with 97 interested parties to try to sort out what is looming as a potential logistical crisis and develop solutions to the impending software communication issues at hand.
What came out of that meeting may still end up as a bit of a mess for reasons discussed below, but given the path the government has chosen of using hospitals, GPs and pharmacists, and the difficulties involved in co-ordinating supply and logistics to each of these groups in a short space of time, the decisions reached in this meeting represent something of a watershed in government pragmatism. And faith (or maybe reliance?) in what is a pretty robust local health tech sector.
The main decisions made in the meeting according to some of those attending are:
The DoH will rely as much as possible on existing infrastructure for bookings co-ordination, by tapping into all the major booking engines that already exist for GPs, and in the case of pharmacies, where possible, the best equivalent services, such as Medadvisor, which is a widely used patient app for medication use which can be used to talk to a patient's local pharmacy.
HealthDirect, which runs the national health services directory, will feature a master list of all approved vaccine clinics (hospital, GP, pharmacy, or otherwise). This will be widely publicised by the DoH as a central source of truth for patients seeking where to get vaccinated in their region. Presumably the same information will feature on the various booking engine directories as well.
If there is an existing service, such as HotDoc, HealthEngine, or FirstAvailable for a vaccination location, then HealthDirect will simply link the patient to that booking service, so they can directly book with their GP, hospital or pharmacist.
Currently, all of the major booking engines are working on their functionality for dealing with COVID vaccination patients. Some of the booking engines are getting back to TMR later today to tell us exactly what functionality they are planning.
But we understand that this won't include electronic consent – that ATAGI is developing a written consent form – and this is frankly nuts in terms of the space and time required on premises.
A big problem is that GPs are pretty well covered by the booking engines but pharmacies and hospitals aren't. It might be that the booking engines, like HealthDirect add the listed vaccination outlets and start doing bookings outside of just GP practices. This has to be confirmed. But in lieu of that the government has committed to this so-called National Booking System to talk to those vaccine outlets that aren't currently serviced by existing infrastructure.
This is where things get a little hazy. The best way to build your own centralised booking system is to white label the best one already on the market and plonk it in the middle of the HealthDirect national health services directory. To do that the government is probably going to use one of its favoured (and hugely expensive) consultants. But they will likely be directed to pick one of HotDoc, HealthEngine or one of the other viable existing services, white label it and point it to every vaccination outlet that hasn't already got a booking engine talking to it. This is not a simple task because there are two ends to the problem: the booking end, and the receiving end. Every pharmacy and hospital that doesn't have a booking system will need some sort of cloud offering from HealthDirect in order to understand what is going on at their end.
The good news for this approach is the government has abandoned its thought bubble of having a single master centralised system and is going to try to distribute the task to existing and quite robust infrastructure providers.
The bad news is that this is still a very messy solution. But the news was always going to be bad in some ways with such an ambitious project. At least we are now going about it in the most pragmatic manner, and in a way that is using our existing health tech infrastructure sensibly.
There is has never been a cloud based system that looks over all the various points of entry into the healthcare system as is being proposed for COVID vaccinations. Building one out that talks to every vaccination clinic or existing system which already talks to a vaccination clinic is a mammoth task. Think of how we tried a version of such a system with the My Health Record.
And this is all starting in three weeks' time?
That's probably just nonsense. Which means it will be all be built on the run.
Not withstanding the impossible timeline, the approach being taken is at least pragmatic.
The DoH has cleverly made the project a sort of health tech community challenge.
The health tech community in Australia has a habit of co-operating for a single good purpose when the situation calls for it. They did a lot of free and innovative work to assist pharmacists and GPs during the bushfire crisis.
So as of yesterday, the race is on for the booking engines to gear up and for the government to choose an existing solution it can deploy centrally for anyone not already talking to a booking engine.
The steps left which are likely also to make this process hard to navigate are:
Understanding just how many GP practices and pharmacies are prepared to gear up to do vaccinations, where they are, and who currently can access them for bookings and patient management systems already. As well as bookings all clinics will need to be able to the upload of patient details to the Australian Immunisation Register.
This process is happening now for GPs, but the remuneration almost certainly means any GP doing vaccinations will do so at a loss to their business. Just how many GP practices will actually participate at this stage is anyone's guess. A report in Australian Doctor yesterday claimed that a government has received 5,240 expressions of interest from GPs. If that is the case, a lot of GPs may be going to give it a try regardless, presumably thinking first of their patients and the community in taking on the job.
Pharmacists are due to be assessed and join by the end of February. Unlike GPs, pharmacists would probably be happy to join in because although they are getting paid only half of what a GP will be paid to vaccinate, their patient represents vital foot traffic that will also buy product while in their shop, and probably come back if they have a good experience.
Once all these locations are known they will need to be programmed into the HealthDirect national services directory and the various booking engine directories, and links to existing services put in.
Where there isn't an existing service, the government will need to have its white label solution ready to go. Remember, hospitals are due to start in three weeks and GPs just a couple of weeks after that.
The economic dynamics for pharmacists and GPs are almost polar opposite in doing COVID vaccinations. But the set up issues aren't.
They'll need a lot of extra space for socially distanced consent form reading and waiting around afterwards, as well an additional nurse, resuscitation gear and oxygen.
Given you will need scale and high throughput to make any money in this game, there are lots of practice managers out there thinking that the government may be stuck with very few candidate GP practices and pharmacies in the end who are capable or willing to try to vaccinate.
Another original thought bubble from the DoH, which is a great idea on paper, was that their central system would have some sort of API into all the existing systems, which would drag a live feed of non-patient-identified COVID vaccination booking data back to the centre so the government would be able to co-ordinate inventory and supply properly.
This is a great idea, but in the time to the vaccination program starting, is highly unlikely to be in place. Which means, that inventory and supply estimates are probably going to be just a little all over the place, especially to start with.
Quick question: where is the Australian Digital Health Agency in all of this? Isn't it the peak body for digital health co-ordination in Australia?
Answer: it is reported to be involved and supporting the program, but in only the background.
That it isn't leading it, is probably a relief to many, given its track record, but also a continuing question for the government as to what this $300m a year spend really returns for the country.
Essentially, if all of the above gets pulled off, it will create in weeks some form of national communication protocol across the disparate state, federal and regional fiefdoms of digital health, something the agency failed to achieve in nearly 10 years of trying.
CEO of the Medical Software Industry Association of Australia (MSIA), Emma Hossack pointed out to TMR the significance and upside of all the goings on yesterday.
That the government, in a pretty tight situation, has no choice but to go with what is a pretty good and growing national digital health infrastructure and, although still making things up somewhat as it goes (that happens in a crisis) is not going to retreat into a dark corner to develop a big centralised system with a very expensive consultant (as it has tended to do in the past).
These weren't actually Hossack's words. She was much more politic in how she presented her case.
But she does have a case.
There is a good existing infrastructure of health tech in Australia, and if the government works smartly with our tech vendors, and the vendors cease competitive hostilities to a degree for a couple of months, for a greater cause, we may achieve great things here in a very short amount of time.
We're unlikely to achieve what the government keeps spruiking. It's going to be messy. But we might get through it. And if we do, a lot will be down to our developing health tech community and their already significantly developed infrastructure and functionality.