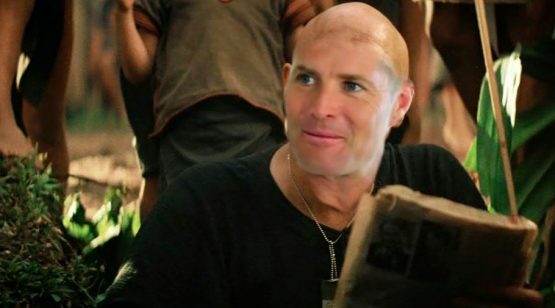 It's nice to know that for every Colonel Kurtz (Apocalypse Now or, if you're a traditionalist, Heart of Darkness) of the anti-vax army, there is a Seth Ginsberg.
Most of us are familiar with ex-celebrity chef Pete Evans and his increasingly bizarre and offensive ravings on alternative health and the dangers of vaccination, including his recent rant about RACGP president Dr Harry Nespolon. If not, here's a snippet to get his technique and flavour:
"The amount of people that we have helped come through cancer through looking at a holistic lens [sic] – holistic means embracing modern medicine as well as natural medicine – the amount of people that we have helped get off pharmaceutical drugs, the amount of people that have reversed their terminal illnesses, that have no longer autoimmune disease [sic], that have put things into remission or severely reduced their medication.
"The amount of people that are no longer depressed or suffer anxiety through looking through a holistic lens. I wish that doctor had have had the courage to have a chat.
"It's very sad what happened to that gentleman, and I wish it never happened. But when you have people that are in positions of power, or experts in their chosen field of medicine, that still do not know how to deal with disease and illness, that still succumb to these diseases and illnesses – yet they're the experts in these chosen industries – may speak volumes [sic]. May. May."
Evans lost almost all of his current commercial endorsements this week when he posted a cartoon of a caterpillar wearing a "Make America Great Again" hat speaking to a black butterfly with the black sun symbol on its wing. The black sun symbol is associated with Nazi Germany and is used by the far-right including the Christchurch gunman. Evans said he didn't even know what neo-Nazi meant until he googled it.
If you think that with his last commercial endorsements gone, the Pete Evans phenomenon might be entering its sunset phase as far as influence is concerned, that's not likely to happen according to most media analysts. In a report on media and marketing website Mumbrella, analysts predicted that with more than two million social media follows, he is simply entering a new phase of his media career, mainly on social media, when he can likely get away with a lot more.
Like Colonel Kurtz in the iconic movie Apocalypse Now, Evans has left the mainstream world and set up camp, way up stream, in the company of a population of crazy natives who are prepared to worship him.
So who goes upstream into such enemy territory? Especially territory – social media and all who sail with her – where the normal rules of influence, common sense and facts just don't apply.
Well, Australia may have someone who is up for a job like that.
His name is Seth Ginsberg, he is a native of New York City, and he is moving down under for a couple of years to carry on his lifelong vocation of advocating for patients.
Ginsberg might just be one of the world's most famous patient advocates and leaders. At the age of 18 he started his own advocate organisation for patients suffering rheumatoid arthritis and the many associated immune conditions. He had suffered from spondyloarthropathy since he was 13. The site, creakyjoints.org, grew rapidly and before long became his full-time job. The site has over 300,000 patient members in the US, and five years ago, a local site was started in Australia – www.creakyjoints.org.au. The organisation today provides advocacy, support and education, and funds patient-centred research for hundreds of thousands of American patients, many thousands of Australians, and patients in the UK and Europe as well. One of his next big projects is to go to Japan.
Ginsberg then spread his wings and helped found the Global Health Living Foundation, which took the successes of Creakyjoints and spread the knowledge and ideas into an organisation dedicated to improving the life of patients with chronic illnesses. (www.ghlf.org).
Chatting to Ginsberg the other day, it's easy to see why he's had so much success. He's a ball of energy and ideas and he's on a mission. He's like a classic New Yorker – tough, charismatic, fast-talking, with a lot of ideas, and he ropes you into his enthusiasm bubble.
Speaking of bubbles, he's got some pretty grim stories from pandemic New York, and a lot of admiration for how Australia has managed to buck the trend we are seeing with COVID in Europe and the Americas. Having lived in New York all his life, he said that he had never witnessed the city in such a state of stress and depression.
"People living in Australia don't know how lucky they are, "he says. "The COVID response here has been a real credit to this country, the society, its people, its government," he says. "I think it helps to be a nanny state."
Where does Pete Evans come into this?
Ginsberg looks as youthful and energised as you imagine he was when he started Creakyjoints, when he tells us that his next big thing is vaccines, particularly in the light of the COVID pandemic and the upcoming issues around distribution and uptake of the various vaccines.
Part of "our future is to be the pro-vaccine immunisation force for good," he said.
My immediate thought was, wow, this guy would knock Pete Evans for six in a one-on-one debate, where people were actually listening with open minds. Being from New York, I bet he might even cook better.
Ginsberg, for the record, hasn't even heard of Evans.
His major immediate concern is how many people in the US will actually agree to take the COVID-19 vaccine. Polls currently suggest that up to 50% of US citizens will refuse to be vaccinated for COVID, even if there is a highly effective vaccine made available for free. Ginsberg says that if that situation isn't changed it will be disastrous for the US, and possibly for the world. He's eager to get that 50% number rapidly down.
When I mentioned Evans to him, and wanted to explain myself, I said "Oh, he's sort of our Colonel Kurtz of the anti-vaccine movement here".
A wry but knowing smile spreads across Ginsberg's face.
Still under 40, Ginsberg's even handsome and young enough to pass for young Martin Sheen.