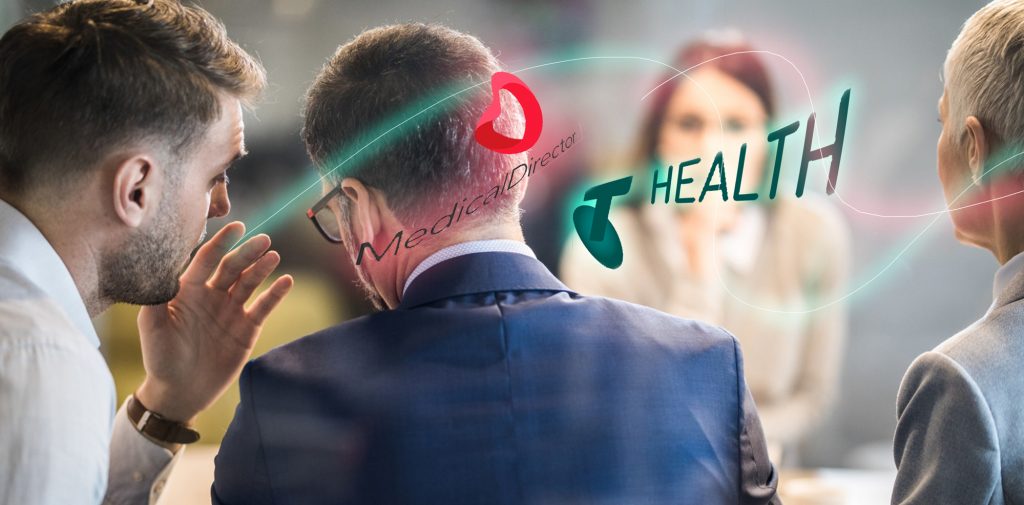 No number will suffice, unfortunately. So we're going to have to call this a fake news story with a lot of logic to recommend it.
Telstra Health is said to be on the verge of acquiring our oldest, second biggest, and maybe most iconic patient management software group, MedicalDirector.
Why might this not be fake news, and what might it mean for the medical software market, GPs, and the few specialists who use the specialist version of the product?
Why might it be happening
1. Telstra Health is the largest digital health company in the country with a parent who has pockets deep enough to buy MD without causing a blip in the balance sheet.
2. One plus one is almost certainly going to equal something like three and a half in overall value (at least) given the obvious hole in Telstra Health's strategy that MD would probably fill.
3. Telstra tried to buy half of MD five years ago when management changed and the new managing director called time on what was then a pretty disorganised gaggle of assets. Not withstanding, the logic for the gaggle, put together by former CEO of Telstra Health, Shane Solomon, was reasonably visionary. Back then MD was the jewel that would transform the gaggle into a flock of digitally connected crack swans [I can't even … Ed.].
4. The logic from five years ago is far more compelling today, because five years ago, Telstra as a whole was hitting troubled waters, and Telstra Health was a bit of a mess. Today, Telstra Health has sorted itself out substantively, and has the eye, the confidence and apparently the blessing, of parent company management.
5. Some of Telstra Health's assets, most particularly it's Rx software group FRED IT, have done so well with their existing assets and projects – projects like the major Rx exchange in the country and, electronic prescribing (a contract they've had with the Australian Digital Health Agency) – they've put the company in a position where there is enough management depth and technical knowhow to take on a complex acquisition like MD.
6. The private equity owners of MD are at their wits' end. They acquired MD for $155m five years ago with big plans, most of which were hubbed in a strategy to take the product to the cloud. They paid too much, and those plans came a cropper over time. Now MD is stuck with an owner who can't add value in terms of strategic synergy in any way, has pretty much no clue how to manage a medical software business, and has struggled to find a buyer at the outrageous price that PE typically hold out for in situations like these. Digital health is suddenly very sexy , and MD though messy and stalling is still a well trusted brand with a footprint covering nearly half the country's lucrative and strategically vital GP market. Their best hope for an outrageous price was an overseas buyer, but medical software is a complex and very localised game still, and Australia is a pretty small market for some of the overseas behemoths. The only logical possible buyer locally that can stump up enough cash to satisfy Affinity, is Telstra. But it isn't going to stump up an outrageous price. It is going to stump up more than Affinity deserves for how badly it handled what was at the time of acquisition Australia's most valuable digital health company, but a lot less than outrageous. Somewhere between $190m and $300m. In this scenario Affinity can walk away without severe reputational damage. Telstra is the only company with the money to buy MD at above $155m, and the only company with a set of synergistic assets that make it worth more than that to them. It's a one-company deal which makes for some pretty tricky negotiation on Affinity's part, because Telstra could walk away and still do OK.
What might this acquisition mean for GPs?
It could lead to fast and seismic change for how GPs work. GPs, the RACGP, ACRRM, and all the interested parties are going to need to take note if the acquisition does go ahead, as it stands to greatly accelerate innovation and development of connectivity and interoperability in the primary healthcare market.
How so?
Until now, MD and Best Practice have formed a sort of shifting duopoly, a bit like Coles and Woolworths. Five years ago, MD owned the most doctor desktops and market share. But Dr Frank Pyefinch, who was the original founder of MD and who left it to compete by founding BP a few years before, has been a wily and nimble competitor. Although BP is 30% owned by Sonic, and has most IPN surgeries as clients, it either wasn't given a lot of access to capital or Dr Pyefinch, who controls the company still, refused to take it in order to accelerate growth. It grew anyway. And fast, by being close to the client, and not having to spend a lot of money and focus on developing a cloud-based version of the product. It concentrated on value for money and functionality of their desktop product, and planned for a cloud product into the future, which Dr Pyefinch rightly predicted, would take longer for GPs to accept than people suspected.
The problem for BP and Dr Pyefinch now is that Telstra Health has a lot of capital, a lot of experience and technical knowhow, and, if it does buy MD, an awful amount of intent. It isn't going to get connectivity and the cloud wrong, like Affinity did, and it has market alignment on its side. More than ever before, mobile and cloud-based technology is impacting health, and GPs won't be protected from it much longer.
You might think that the most obvious omen for this big market shift is the flurry of successful and fast-growing cloud-based medical application companies now nipping at the ankles of BP and MD. Companies like MedAdvisor, which with only $9m in revenue has a market cap of $106m such is its potential, Hotdoc and HealthEngine, Clinic-to-Cloud, and MediRecords.
But the real rocket that has been put under digital innovation in primary healthcare is telehealth.
So far there has been a lull in impact of telehealth because GPs didn't expect telehealth to ever happen and there has been no preparation for it. Today, GPs use only their phones, as this provides the most immediate return for a practice that is wholly set up to see patients face to face. But this isn't going to last that long.
Corporates, existing telehealth providers and entrepreneurial GP groups are going to realise that telehealth is part one of GPs being able to go mobile. By mobile we mean that up to 60% of all consultations will be able to be conducted via telehealth, anywhere by an appropriate equipped GP. To get to 60% and be efficient there will need to be a lot more video, maybe 20% of the 60%. But with all that capability imagine how you might now set up the an efficient GP practice. Depending on what you design you will be able to do after hours, offsite, at home and aged care and your practice network can be formulated from all over the country based on expertise. You may well still have a physical practice, as face to face will remain the most important consult format. But your practice size will be smaller, and you'll be able to pick it up and move it easily and quickly to meet market demands..
All that change is going to throw a lot into the air of a traditional primary care setup.
But all this can't happen unless patient management systems are truly mobile. And they can't be mobile until they have a working cloud architectured version of their product.
Both BP and MD don't have a working cloud versions. MD might say they do, but if Telstra is really buying them it's doubtful that their IT due diligence will rate Helix as the go-forward product for what it will be needing.
One of the biggest mistakes made by Affinity was buying the line that Helix was a purpose-built cloud version of MD3, the desktop version of MD, when it was essentially custom-built originally to service the specific bulking-billing structure of Primary Healthcare. It wasn't properly architectured in the manner that some of the fast-moving cloud-based app company products are.
Telstra Health may have to start again even. But with the knowledge it has from building the country's largest pharmacy exchange, e-scripts, pharmacy software, the national cancer registry, and a complete tertiary EMR system, it'll be able to do that. What it would be buying in MD is mainly brand and market share.
There's going to be a race. The sooner these market behemoths have a working cloud version the sooner they can talk to all the fast developing cloud based apps far more smoothly, and to patients directly on their mobiles.
If Telstra buys MD, the gun will go off in the race to functional cloud PMS systems for both MD and BP. That race is likely going to be escalated in tension because there are already two new vendors in the market with working cloud PMS systems. They just don't have the brand and market share. But if the leaders take too long, or slip up, at least one of the majors could easily be supplanted.
It will likely be one to two years at least before either BP or MD has truly functional cloud versions for their GPs. And if either tries to go too early, they likely to run into serious customer pushback. This is why Helix became a problem for MD. It wasn't ready. GPs are a time-is-money business, and if your software goes down, or is too hard to adapt to, or doesn't have all the integrations – payment systems, pathology links, MHR, clinical auditing, appointments, SMS, and so on, infinitum, working perfectly – then your customer is going to be burnt quickly and leave you.
The good news for GPs?
If you can get telehealth, mobile servicing, and allied health interoperability right with this new technology, you might be on your way to a more efficient, more fulfilling, more financially rewarding business.
The bad news?
The federal government is going to end up paying lot more in the new telehealth paradigm. And although that is going to get it a more efficient and safer healthcare system eventually, they are going to try to recoup the overspend on telehealth from somewhere else in the system. This and a post COVID budgeting world are going to put pressure on all GP practices to become a lot more efficient.
Change is coming.
If Telstra buys MD, its coming a lot faster.