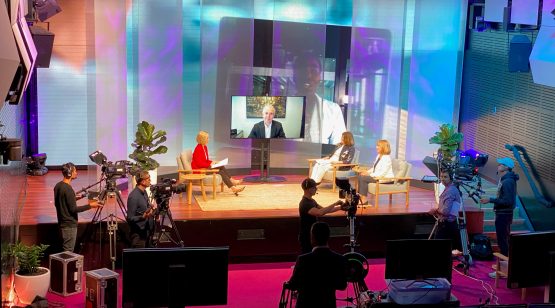 In a panel discussion, Telstra Health Managing Director, Professor Mary Foley AM, and Telstra Health Board Director, Professor Christine Bennett AO, were joined by Telstra CEO Andy Penn and the ABC's Sophie Scott. The session covered topics ranging from the role of digital in healthcare, the importance of role models, and the collaboration required to work towards gender balance in digital health.
The Health Sector of the Future
A central point of discussion at the BCW in Digital Health launch was a focus on the future of the healthcare sector and the role digital health plays in achieving good health outcomes for all Australians.
Mary Foley outlined the importance of digital health as follows: "Digital health solutions are a key element of what health systems will need in the future. COVID-19 has put pressures on the health and aged care systems, but it has also accelerated digital solutions out of necessity. It's important that we're launching the Brilliant Connected Women in Digital Health network now, so that we are ready for the health sector of the future."
The discussion of healthcare in the future was related to the importance of a network, like ours, in connecting individuals and working towards gender equality in the digital healthcare space. As Christine Bennett outlined: "In 10-15 years' time, I hope we aren't still talking about gender but rather brilliant minds. I hope we see a digitally-enabled health sector, with safe, high-quality, efficient and accessible systems led by women and men."
Andy Penn agreed that gender equality is an important topic, one that requires concerted and collaborative efforts to achieve balance: "We know there is a low proportion of women in deep technology roles. I can't think of a more important time to shift the focus to include digital health and to leverage the Brilliant Connected Women in Digital Health network to make a difference for women in technology and in the health sector."
Gender Equality is everyone's responsibility
Andy Penn highlighted how important it is for both women and men to work towards gender equality in digital health: "It's important for men to embrace the Brilliant Connected Women in Digital Health network because many men are in positions that enable them to play a leadership and advocacy role and make a difference."
The importance of symbolism and individual efforts was mentioned by Mary Foley, who stated that: "The power of having visible role models shouldn't be under-estimated. Otherwise, it's harder to make your way if you can't see other people like yourself. Through the Brilliant Connected Women in Digital Health network, we hope to connect and inspire women with role models."
About Telstra Health's Brilliant Connected Women in Digital Health
Telstra Health's vision for the network is to bring together a community of likeminded individuals, both women and men, to share ideas, develop connections, inspire opportunities and celebrate our brilliant women in the digital health sector. Telstra Health will hold virtual and in-person networking events where possible to create new connections amongst women in digital health.
As stated by Andy Penn at the launch event, "Brilliant Connected Women in Digital Health is a fantastic initiative as it provides the opportunity for ideas to be heard and shared and for people to speak up. It's important to create forums where women can engage and connect and that support inclusion and diversity."
Mary Foley indicated that now is the right time for the launch of a network that celebrates the many women involved in digital health who are making a real difference: "While healthcare as a sector has many women, there's a low percentage of women in IT areas. We want to encourage and inspire women in health and health technology to embrace technology to help healthcare operate at its optimum.
"Now is the time to focus on women in digital health."
Do you work in, or have an interest in, digital health? Join the Brilliant Connected Women in Digital Health network. Attend regular events with inspiring speakers and receive a newsletter with industry insights and news.