27 October 2020
RACGP Infowars, medical and social media, truth, and other stories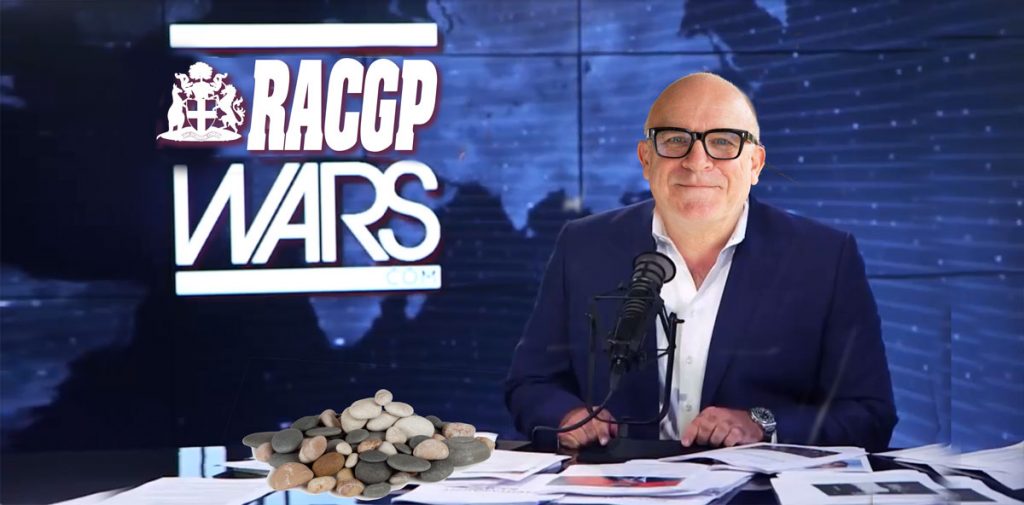 Let me start with a disclaimer:
In this editorial I'll be playing the role of Alex Jones (Infowars), and throwing the odd variously sized pebble from my largely glass house, in attempt to make a few points about journalism, transparency, reliable information and the Australian medical media. That is to say, if you can, please don't write to me and say I'm conflicted writing this piece … of course I am. But maybe read it anyway and see if some of the information not in dispute helps you understand better your day-to-day information habits in Australian medicine.
Chatting to a very knowledgeable and 'inside' GP personality the other day, I was taken aback just a little when they admitted they hadn't really even considered that the daily email service, NewsGP, was in fact, produced ('produced' … crafted perhaps?) by the RACGP. The topic came up because of the recent RACGP exam failure scandal, where the RACGP news service had no initial coverage of the massive failure, but eventually published a story when it was fairly clear that the board and executive needed to apologise and explain a few things.
I suggested that perhaps some of her assumptions were based on the branding of the service, "NewsGP", which does suggest it's news for GPs. I asked if she knew why the RACGP had originally started the service, and of course, she didn't. That story is below.
When she saw NewsGP the next day on her mobile she sent me a surprised text wondering out loud why she had ever read it each day assuming it was some sort of independent news service, and taken most of what was in it for granted. She said that while the service remained of use – which of course it is as a source of college 'scrubbed' information – her new realisation had created a not insignificant adjustment in how she managed and understood and ranked her diet of daily medical information.
If you think about how much social media plays a role these days in how people consume and act on information, you probably wouldn't be surprised to hear that our connected GP's experience with medical news media and information isn't an unusual one.
One of the reasons social media plays an important role for many people, is that peer-to-peer information is usually the most trusted source by professionals. It certainly is for doctors.
Trust me. It's true. I'm a media professional, after all.
No?
OK, we did some qualitive research on it over more than 10 years. Does that help?
A group of the medical publishers got together many years ago now and did research into what sources of information doctors trust and take action on. It covers most sources of information doctors have for both clinical and news, including even pharma reps. The results from the latest iteration of this research in 2018 are summarised in the charts and graph below.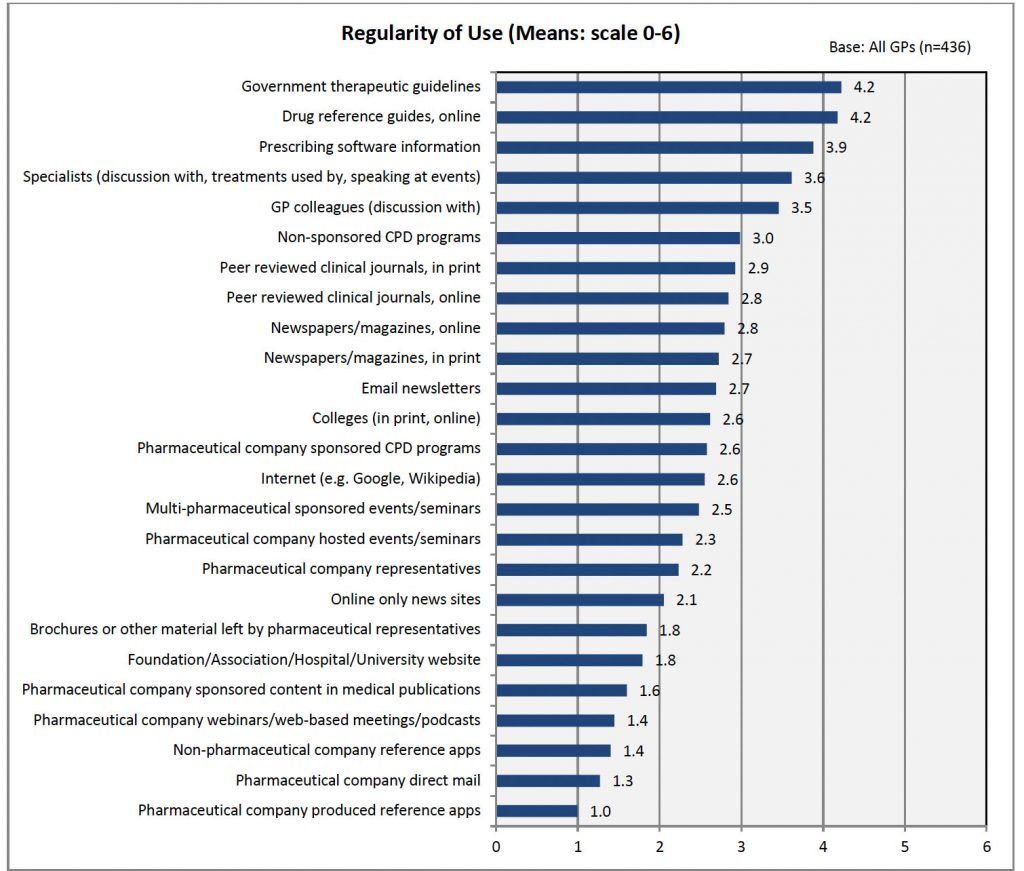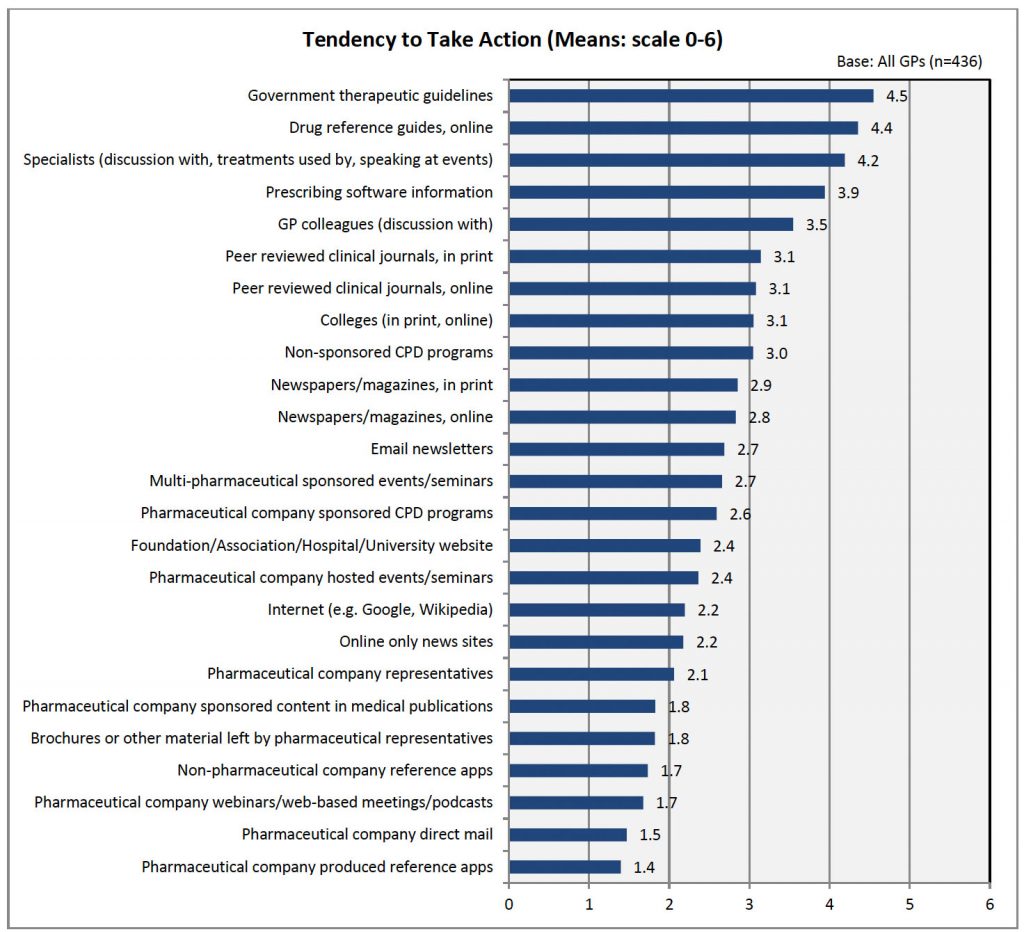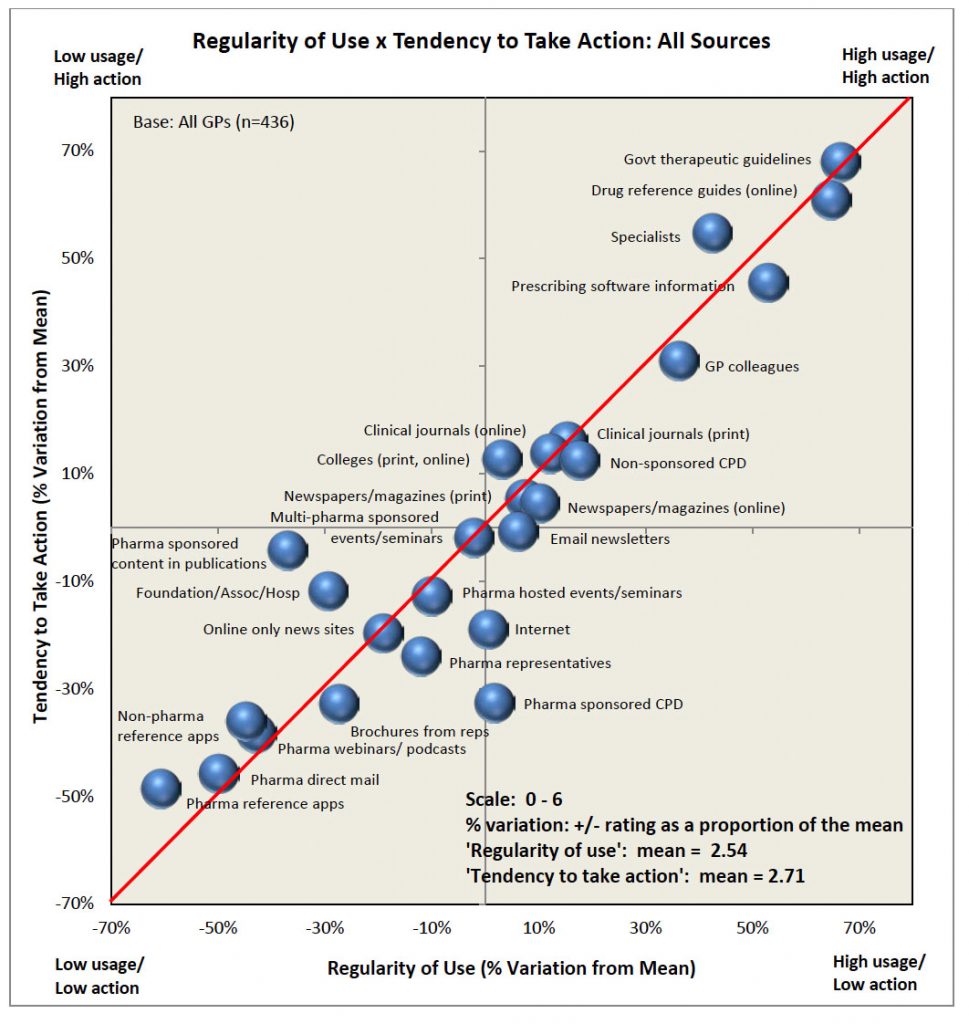 In summary, we asked a statistically weighted and relevant number of GPs what information sources they used regularly, and in what order they tended to take action based on the source. This was as good a proxy for 'what information source do you trust and use most' as we could get too.
By the way, this research does have a major flaw which is hard to account for: the bias that doctors consciously or subconsciously express in their answers. We know from years of readership research of all the major medical publications (The Medical Republic, Medicine Today, Australian Doctor and the AJGP), that what doctors say they do isn't necessarily what they actually do. That's another story you'll have to trust me on but the data comes from matching actual prescribing behaviour as measured off de-identified data from the major patient management systems, against, research where you ask for what a doctor did (eg, diaries). There tend to be differences in most circumstances.
In the case of the above research, even though doctors are answering anonymously, they tend to answer how they think they should behave more than what they might actually do. The easy example is (here's my first pebble out of the glass house), do you read medical journals more than the trashy news tabloids, and generally, as you can see from the above results they'll always say they tend to read and use clinical journals more. That doesn't bear out if you look at actual behaviour as much as it reflects in research like this.
The other finding that is likely skewed a little is that like it or not, doctors do tend to get new and good information from pharma companies and even pharma reps, and depending on their rep they can quite trust that information. That is in another set of research which I'm not going to bore you with here. But it makes sense. You don't want to be saying to anyone at a dinner party that you learnt most of what you know about a stunning new oncology biological from an Astra rep. But that's often where you'll get your first information on it, and a lot of the base information. You'll top it up usually of course with some peer-reviewed information, if it hasn't already been provided to you.
Other than anomalies you might get from behaviour like this, the results aren't really that surprising. As suggested above, doctors trust doctors the most for their actionable information after the most important neutral and researched therapeutic data sources, such as the TGA, the NPS, drug indexes and the like.
But there is some interesting devil the detail if you care to look.
For instance, according to this research, GPs tend to use medical newspapers and magazines more than college-based information, yet, when it comes to taking action, they rely more on the college information.
That is quite probably a real finding, but maybe surprising for a few members of the RACGP and the MJA.
Wash away all the misinformation and bureaucracy, and members still trust their organisations when taking action on information. Who'd have thought?
The research above includes key information sources and naturally clinical information is the most important and at the top of the charts. It's a GP's stock in trade to get clinical decision information right so a little more care is taken and clinical journal brands are trusted a lot.
But if you think about other information that GPs need to get and take action on – news and analysis about politics, their colleges, regulation, the PSR, the Medical Board of Australia, technology, and so on – how are they choosing what to use?
I'm pulling a larger pebble from my pile to throw now.
Why did the RACGP start a daily email newsletter service, how reliable is it as a news service given it can't be independent, and does it fit into the charter of the college?
The college summarises its vision as follows:
The RACGP's mission is to improve the health and wellbeing of all people in Australia by supporting GPs, general practice registrars and medical students through its principal activities of education, training and research and by assessing doctors' skills and knowledge, supplying ongoing professional development activities, developing resources and guidelines, helping GPs with issues that affect their practice, and developing standards that general practices use to ensure high quality healthcare.
Certainly, you could see that such a vision might include a daily news service. But what if several already existed (commercial ones, which we will get to) and that in these ones, they had a business model of independent journalism, which already covered over 90% of what the new RACGP news service was going to cover?
What should an RACGP executive do with that dilemma? Spend about $1m a year of member funds on reproducing 90% of what already exists, or figure out some other way of getting that 10% or so of news that the college generates out there to their members, which is no doubt important, for less than the cost of putting a whole lot of journos together in an office with computers and phones and creating a newsroom?
Based on what the RACGP executive decided to do two years ago, it's the former. Spend the $1m or so annually on your own daily news service.
But why do that?
At the time, the executive of the RACGP was explicitly upset with the two major medical media news outlets in Australia: Australian Doctor and us, The Medical Republic. It is a matter of record that both organisations were cut off from the RACGP media group and an attempt was made to prevent any information from the college being made available to these organisations.
The RACGP didn't like what the independent news providers were writing about it.
So it figured, it'd write its own stuff. In fact, some insiders heard it said that the college might be able supplant the two independent providers if it did a good enough job, and send one or both of us to the wall for our sins.
Thud.
Pebble hitting outside shell of reinforced concrete bunker at the RACGP, and footsteps of someone running out to gather the rock to throw it back when they can.
Before you decide for yourself if the college really did something that stupid and persists with the strategy, please, consider these few more little pebbles.
GPs Down Under is now a pretty major influencing powerhouse of GP opinion and an important forum for discussion for many GPs. If something really goes wrong in GP land, clinical or otherwise, you can read the temperature of much of the profession by sitting on GPDU and watching the discussion – not that I can do that because I'm not a GP. But I've had lots of descriptions of the phenomenon.
One of the people who helped found GPDU is current president elect, Dr Karen Price. She did it with a few other women GP friends after getting hugely frustrated trying to set up internal discussion protocols within the framework of the college to get help on basic clinical issues she was facing day to day.
Today, GPDU has about 7,000 members. It cost nothing but the hard work and commitment of Dr Price and few of her equally diligent colleagues to get going (which in $s would actually be quite a bit if you mapped it out), and even today, it doesn't generate any revenue to pay for any of the moderators or software development work (its actually just a private Facebook group, so there isn't a lot of that, the secret is in the considered moderation).
You'd have to say, with no money spent, but a lot of good intention expressed, GPDU is a fairly important source of information framing for a lot of GPs today. That is both for clinical information, which is starting to prove that a lot of paid-for clinical education isn't actually necessary (including a lot the college actually produces and charges its members for), and the trashy political and regulatory stuff that Australian Doctor and The Medical Republic do.
GPDU is trusted within a frame of information-gathering for a lot of GPs. It's only for GPs and it's moderated that way carefully. The only short-term interesting question around it, which Dr Price may have already answered, is will she be stepping back from moderation and commenting while president of the RACGP?
Anyway, a couple of years into GPDU, and when it had just busted the 3,000 mark of members and was growing radically, the RACGP executive decided to send one of its execs on a really expensive research tour to the US to look at how it might start its own version of GPDU. Social media communication was obviously starting to trend.
At the time, the moderators of GPDU were a bit peeved, suggesting that they were happy to work with the college closely as GPDU was neutral and was already serving a purpose that the college wanted to supplant in some way.
Sound familiar?
The all-up expense of ShareGP will never be known, but it is understood it wasn't cheap as it was developed using consultants, and external software providers and the like. It was promoted for years as the key place for GPs to come and discuss stuff.
But they already did that in a place they trusted called GPDU.
Soon after Dr Harry Nespolon started as president of the RACGP, ShareGP was closed down, after only a few years. No one went there. No one really trusted it to air their feelings as they apparently do GPDU. And it was losing a fair bit of money.
ShareGP was an executive attempt to wrest power and influence from GPDU, plain as day. And the college wasted a significant amount of members' money trying to do it, and that decision was made by the executive, not the board. Even if the money was approved at board level, which we don't think it ever was, the board was being controlled. Members had no say.
Like a series of failed investments in the mysterious and largely opaque commercial arm of the RACGP, Oxygen, also closed down by Dr Nespolon quickly upon his formal presidency starting, the financials around the failure of ShareGP were not ever revealed to the members – at least no annual report reveals them. The loss and embarrassment was disguised in the growing membership, fees going up, and the money coming in from its CPD monopoly, which was also growing with member numbers and fee increases.
Glass houses or not, NewsGP, in its current form is wasting the college a lot of money. The college can meet all its obligations without running journalists and a daily news service, which only reports news that favours the college. OK, our insider GP didn't realise it was a PR platform, so it worked on them, but is that what the college is really aiming for here still?
By the way, NewsGP sometimes has some great news written by some pretty good journos.
And NewsGP also reports some stuff that the independents can't and won't ever get as breaking news, because the college will only give it to them first.
But they can do all this without such an expensive and see-through construct as a whole newsroom (ping … bouncing mini-pebble).
Another small pebble: the RACGP sent its NewsGP email at the outset to all its members. The RACGP has the largest email list in the country because if you're a member, you have to give it your email. Now NewsGP features as one of the RACGP's media offerings, where it shows you its traffic in its media kit, and it takes advertising to add to its revenues, as a result of that traffic. Traffic generated in large part by an email list they acquired for the purposes of members getting member information – not a news service which would bring in additional revenue by advertising, including pharmaceutical company advertising. Independent media organisations don't have every GP's email, of course. They've had to earn them over the years with stories and sign ups mostly. So that's quite an initial traffic and commercial advantage that the college has and uses in its ad sales spiel.
What about the independents? Are they really so independent? Or are we maybe talking here NewsCorp whingeing about the ABC, and insisting the government defunds the only really independent source of news in the country?
Here's a very quick run down on the ownership and independence status of Australian medical media, which is easy to check.
The oldest medical media group that is not college or AMA based, is actually the Medicine Today Group which publishes the peer-reviewed monthly clinical medical magazine, Medicine Today. The roots of this title can be traced back to 1957, when it launched initially under licence, as Modern Medicine. The two long term owners of the group changed the name and dropped their necessity to pay the US owners of the name Modern Medicine any licence fees in 2000. They changed the name to Medicine Today. The founders and publishers of this group started working in medical publishing in 1979, for the New York Times magazine group. They started their own group publishing Modern Medicine under license in 1985. Judy Passlow remains full time in the business as the publisher and editor in chief, and her partner in the business, Tony Scott, still helps out too part time, consulting and doing the odd bit of selling.
Medicine Today group is about as independent as you get. Two locals, doing their best to run a clinical information magazine and digital service, amid the awful changes that media groups are all undergoing under the emergence of the evil overlord digital imperialist platforms of Facebook, Google, Apple and Amazon (also referred to by us older media lay people as 'The Four Horsemen').
Passlow is very strongly grounded in medical editing, is fanatical about peer review, knows nearly every good specialist in the country that can write, and appreciates the importance of accurate independently reviewed clinical information. She's smart, strong and a very independent thinker, and that shows in the quality of the publication, which for the size of the Australian audience outranks in quality a lot of equivalent medical magazines in much larger markets overseas.
The Medicine Today Group competes with Australian Doctor, The Medical Republic, and the college magazine, the Australian Journal of General Practice (AJGP). Without getting into the nuts and bolts of how medical readership works doctors tend to read the clinical magazines (which are more like journals) very differently to the tabloids, AusDoc and TMR, which are more like newspapers. It's to do with them having mostly hardcore clinical content versus the tabloids hubbing themselves a lot more in news. To some degree Medicine Today and AJGP both compete a little with the Medical Journal of Australia, published by the AMA.
I'd throw another little pebble in here and say the college is probably wasting money on the AJGP as Medicine Today does the job better, but I'll hold onto it and just say, it's good that Medicine Today has a competitor to keep it on its toes, just like it's good that Australian Doctor has one in The Medical Republic. In that way, the medical publishing market is pretty efficient.
The only thing you could say is that the college doesn't think a lot about how much it spends on publishing the AJGP and how it could get better value for members.
For one thing it's in print, and it sends it to nearly all its members, even though it also has a digital version. That costs the college a fortune in both printing and distribution costs. It's hard to see why they do it because although this gives them a much bigger circulation than Medicine Today (34,000 versus 23,000 according to the Circulations Audit Board) and that should give them a commercial advantage in the ad market, it doesn't. AJGP gets less than half as many ads as Medicine Today, is not as interesting and well presented, but costs probably twice as much to produce, for its members, half of whom we know don't even read it. We know this because the medical publishers do readership research every year and according to this long term research, currently only 56% of readers pick it up and open it.
The obvious thing the RACGP could do here is, ask members if they really want it and only send it to those who do and who actually read it or request it. Or, even better, publish the journal electronically and send it to everyone for free! That would save the college (and members) between $500k and $1.2m per year probably.
Medicine Today doesn't really do an email newsletter, only sending out updates of its print journals, which you can read online, and which include more than the monthly core magazine, with a series of specialised magazines covering topics such as endocrinology and cardiology.
The college of course started its own daily email news service two years ago, directly in competition with Australian Doctor and The Medical Republic. Prior to that it used to publish its 10% of college only important information on a weekly fax service that came out on Fridays (The Friday Fax).
Maybe they could go back to that but on email and leave out the 90% done already by the independent news services, so their members don't have to second guess what is college PR and what is actually news. That would be more efficient surely? And cost a lot less – like about $800,000 or so a year less.
The next major independent group to start in Australia was the Australian Doctor Group. It started in about 1983 after a particularly clever publisher from the UK, Simon Campbell, realised that there were no newspapers in Australia for doctors, like there were in the UK.
He started Australian Doctor as a tabloid fortnightly news and clinical newspaper. It was a huge success and a few years later, Campbell's key sales people broke away from the group and launched Medical Observer in direct competition. As soon as Australian Doctor realised what was happening it went from fortnightly to weekly. Medical Observer remained fortnightly until 2003, when it was acquired by MIMs locally and went weekly in order to beat Australian Doctor in the readership, and win more market share of advertising.
Australian Doctor was acquired in 1992 by global science and medicine information behemoth Reed Elsevier. Many scientists refer to RE as the "evil empire", for its tight control on the science journals market, and it's institutional pricing policies.
Ostensibly, both Australian Doctor and Medical Observer are and were (MO is all but gone now unfortunately) independent, operating on the principal that they needed to fund independent journalism to get engagement with doctors high enough, for readership to be high, and advertisers to pay to put their ads in between the editorial.
Over the years some doctors have argued that none of the media groups are independent because their major source of revenue is advertising from pharmaceutical companies. It's true about the revenue, but it's not true that the newspapers were under the wing of their major advertisers as a result. Over the years many fights erupted between the companies and the publishers over stories written by journalists and both newspapers defended their positions on independence, even when they lost that advertiser, as they did from time to time. Once I had a call from the head of Medicines Australia who was so furious he actually said he was going to make it his personal duty to destroy Australian Doctor. Needless to say, he was an unusual head of Medicines Australia and he didn't last that long after some of the local pharma CEOs found out about the spat.
The pharma advertisers also did sometimes have good reason to be upset. The media gets things wrong sometimes. But they usually eventually all came back, and the two parties have sort of settled in together and accepted that without some degree of independence, the model does not work for either.
In fact, although there is plenty to be critical about pharma company practices over the years, in Australia, they have been the major funders of good medical journalism in the country (willingly or not). The quality of all the medical publications in Australia and their journalism is higher than most equivalents overseas. (You could say this is another pebble being lobbed but it's not at the RACGP this time … it's sort of just being thrown randomly out there for some doctor to lob back when they can).
The first daily email newsletter to GPs was launched by the late Dr Kerri Parnell and her publisher at Australian Doctor  in about 2002. It was called Six Minutes and it is still published each morning by the Australian Doctor group. It was originally a PDF format sent over email each day. A sort of electronic colour fax service.
The  Australian Doctor  editors and journos were a bit more conservative than the publisher who thought the future was probably digital, and felt some experiments wouldn't be a bad thing. The good folks running the paper day to day didn't believe a daily would be useful or would work, which is sort of ironic because when Australian Doctor went from fortnightly to weekly back in about 1987, all their competitors said that wouldn't work either. It did, in both cases. Within a year of Six Minutes launching, Australian Doctor launched its own daily email newsletter. Soon after, Australian Doctor's major competitor Medical Observer launched its daily email newsletter.
And then there were three. And then of course, lots more.
Most medical education providers have their own email newsletters now, one is even daily (it's actually pretty good – Healthed).
And of course, The Medical Republic started its own email newsletter service when it launched in October 2015 as a fortnightly tabloid newspaper and a three times per week email newsletter.
But I'm jumping ahead a bit here. And running out of pebbles.
In late 2012, Reed Elsevier, thinking the writing was on the wall for anything in print, sold its local Reed Business magazine and internet B2B publishing group, Reed Business, to private equity group Catalyst.
At that point and today you could say that the Australian Doctor Group is entirely Australian owned and run. And it is truly independent, running a model of good independent journalism equals reasonably good reader trust and engagement, equals you can still get advertising and sponsorship.
MIMs sold MO to the Australian Doctor Group ) and its PE owner in late 2013. At that point ADG ran two weekly tabloids and three daily email newsletters (Australian Doctor, Six Minutes and Medical Observer, all from the same owner, but well branded separately).
Competition is a good thing in media for the audience (not necessarily for the publisher these days as unless you're Google). Reading the tea leaves, the people who started The Medical Republic figured that if the private equity owners of Australian Doctor and Medical Observer were going to do their job properly and pump up the profit of the group for sale, then one of the two major news tabloids would suffer.
It turned out to be Medical Observer. Less than nine months after The Medical Republic launched, Medical Observer was turned from a weekly tabloid with its own distribution, into a monthly A4 inserted magazine inside Australian Doctor. Last year the group stopped publishing the print insert altogether and for all intents the original MO left the building. They kept the daily email newsletter going but wanting to provide some differentiation to the newsy dailies, they decided eventually to make Medical Observer newsletter all opinion pieces and blogs.
Meanwhile, The Medical Republic launched daily email news, and hence Australian Doctor had a true competitor to keep it honest. And NewsGP had three daily email news services doing already 90% of what they were attempting.
Independently.
Oh, The Medical Republic is 65% owned by its founder (me), 5% by the family of founding medical editor Dr Parnell, 10% by its founding marketing and sales director, 10% by the largest GP medical educator HealthEd and 10% by the largest consumer facing healthcare media group founded by Dr Norman Swan, Tonic Media. So it's independent, and has got good grounding to provide Australian Doctor, which is the 100 pound medical media gorilla in Australia, with some checks and balances.
Also, Australian Doctor Group is a great group notwithstanding it's still owned by private equity. Somehow its soul is still journalism and although the journalists inside the group aren't as well understood and loved as they once were when they were owned by a bigger global publisher, journos have this habit of taking ownership themselves, without equity. They're a strange bunch. They are really the brand ambassadors. They maintain that independent journalism still is important. It is.
So that's the potted history of medical media, social and otherwise (there is more medical social media out there which is good such as CODA, which was once SMACC – Social Media and Critical Care – but if I kept going I'd have to write a book).
The point is, it's going to be easy to point to this editorial and say it's a conflicted publisher throwing pebbles from his glass house. Easy, because to some extent that is true.
But check out the framework of what is really going on here.
The purpose  of this organisation (sort of like the vision of the RACGP), as discussed at the pub with all the staff regularly, is almost as ambitious as the RACGP's vision, but a lot less complicated:
Better healthcare in Australia
Fulfilling work life for

all

staff
A regular part of the first part of this purpose is trying to hold the RACGP to account, with a view to trying to bring about some changes that would deliver the purpose. You can say we do that badly or not, but we at least try. We aren't doing it to be simply precocious. We think the RACGP is a vital institution that can be a lot better. We don't even think it's been that bad, especially when you put it up against other medical colleges and professional associations. Take the RACP or Certified Practising Accountants. For all the grief we give the RACGP over the years, compared to these groups, the RACGP is gold standard. But that's not the point. The point is, the RACGP can be, and it should be a lot better.
The RACGP has had 10 years of covering up very average management (sometimes downright poor) through increasing revenue and membership, largely via its education and training monopoly, handed it by the Medical Board of Australia some years back. It has spent that equity on the wrong thing and hasn't engaged with its members meaningfully. It could literally afford to ignore its members, it was making so much money.
As things turn out, the MBA won't be changing the RACGP's tight hold on CPD and its reporting for some years yet. It announced a new 'CPD homes' system for monitoring CPD and reporting it, which could break up the RACGP monopoly, but in typical government style it is sorting through the detail, and that is going to take a few years.
The RACGP is still wasting members' money on things like a daily news service, forays into social media, poor decision making for online exam vendors, and printing 34,000 copies of its magazine and sending it to most of its members even though nearly half never pick it up.
It has some new and interesting management in Dr Matthew Miles, who did come out eventually and apologise for the exam mess and take some lead on an issue that until that point was being absorbed by the vice president.
Signs of leadership. And transparency.
Green shoots?
Hopefully.
But the shoots won't grow without continued fertilisation in the form of the independent assessment by the media, the GPDUs of the world, and others within the medical information ecosystem.
Note: It's been suggested to me that for the sake of transparency and perhaps just a little less confusion I should point out that I was once the long-term CEO of Reed Business and publisher of Australian Doctor. I was the publisher of AusDoc who worked with Dr Kerri Parnell on the experiment in daily newsletters called Six Minutes, and I was the CEO who transitioned from Reed Elsevier to Catalyst when this private equity group bought Reed Business and Australian Doctor in Australia. I was the CEO that brought Medical Observer into the same stable as AusDoc while we were in PE. I was fired by PE after about 18 months as CEO (long story but it was a good thing). Dr Parnell and the ex long term sales and marketing director of Medical Observer, Frazer Mackenzie-Andrew, and I founded The Medical Republic a year later, as we looked on with some regret as MO, a great publication, was stripped down for parts and profit under PE.