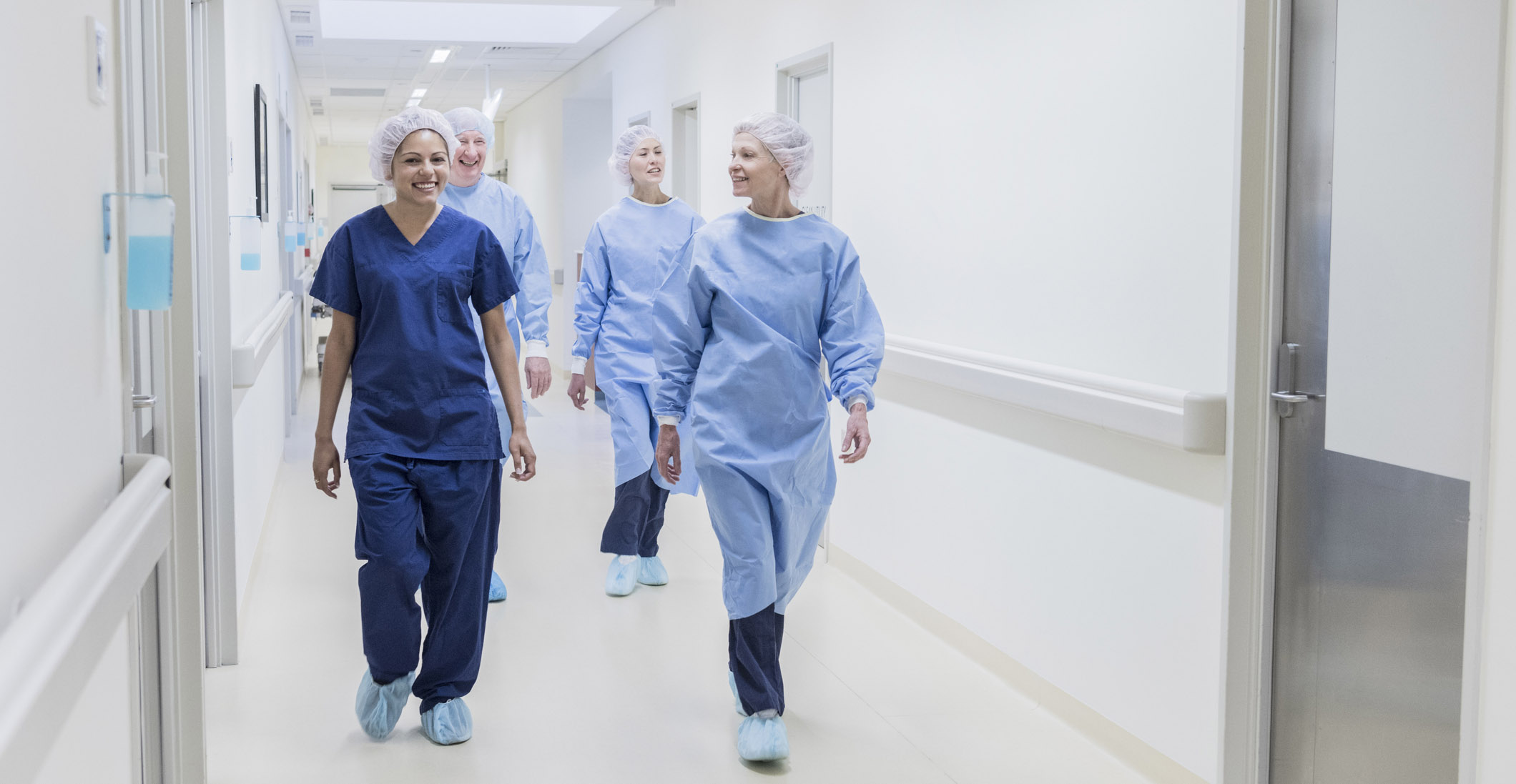 Since its launch at St George, myBeepr has solved multiple problems for the organisation.
Background
Healthcare staff at St George Hospital were amongst many in NSW faced with challenges in utilising effective communication platforms. As a result, staff had resorted to using personal smartphone devices and social media platforms to communicate.
The mobile application was developed by colorectal surgeon Vikram Balakrishnan and entrepreneurs Kruti Balakrishnan and Krupa Bhagani in 2016 to improve communication between healthcare professionals.
"In 2016 we conducted research, interviewing hundreds of doctors across NSW and Victoria", says Dr Balakrishnan, colorectal surgeon, Founder and CEO of myBeepr. "Our findings were that >95% medical staff were using their smartphones for work related purposes and 84.5% were using WhatsApp to communicate. Most importantly, hospitals and staff wanted one thing – a single platform that solves many problems."
What is myBeepr?
myBeepr is an Australian made healthcare customised clinical collaboration platform. The mobile application allows staff to create individual and group chats, conduct role-based messaging, manage tasks, access a live hospital roster, manage on-call and transmit secure clinical photos. myBeepr completed an integration into eHealth NSWs' state-wide active directory, ensuring seamless access and authentication for all staff at St George.
Introduction
In February 2021, St George Hospital in NSW officially endorsed myBeepr as the clinical collaboration platform of choice for all its clinical staff. myBeepr was made available to all doctors and nurse unit managers (NUMs) and by the end of the first month of its launch more than 850 medical staff (90%+) have onboarded onto the platform with >23,000 messages sent and more than 700 secure clinical images being shared weekly.
Implementation and benefits
"It's really critical in the delivery of safe, patient-centred care that we have good communication between clinicians," said Dr Heidi Boss, the Director Medical Services at St George Hospital.
"The potential we saw in myBeepr was that it combined all of the best elements of a communication solution in a secure and privacy compliant platform. We were intent on helping our Clinicians by making it easy to find who they wanted to communicate with to improve their efficiency overall."
"What also made the introduction of myBeepr so seamless was that it is so easy to use and it didn't take a lot of instruction. It is quite intuitive" says Dr Frances Miao, Consultant at St George Hospital and a myBeepr User.
The working group at St George Hospital followed a robust implementation framework for the introduction of myBeepr into the organisation. The working group developed a customised clinical workflow and use case document that provided all staff with guidelines on how myBeepr should and should not be used.
"It was very important from a governance perspective that a clinical collaboration platform was introduced with clear guidelines for all staff," said Dr Boss.
On-Call rostering
Since its launch at St George, myBeepr has solved multiple problems for the organisation.
Prior to myBeepr there was no simple method for staff to access a live roster or on-call schedule. myBeepr's live directory provides instantaneous visibility to which staff member in the organisation is covering which department, hospital site and specialty. Furthermore, staff can see who is on-call for each department and they can avoidhaving to call switchboard or access a desktop roster.
"myBeepr is a really great application that not only allows you to communicate patient information securely, but also allows you to access anyone in the hospital if you need to", says Dr Rebecca Everist, a senior resident and working group JMO at St George Hospital. "You're not limited to your personal contact list".
Group chat
myBeepr's group chat function also allows staff to create customised care team groups and communicate regarding patient care. Staff at St George Hospital have created >120 care team groups since myBeepr's endorsement into the organisation.
"In healthcare, we all work in teams," says A/Prof Winston Liauw, the Chief Medical Information Officer of South Eastern Sydney Local Health District.
"We need to communicate and collaborate in a timely and reliable way. It is mission critical to doing the work."
A prospective study at St George Hospital showed that myBeepr reduced the time to close the communication loop from 27 minutes to just 4 minutes and 30 seconds, compared to traditional communication technologies previously used by the organisation.
A prospective study at Monash Medical Centre in Victoria also showed that myBeepr was associated with a median time of 58s to communicate critical test results.
"The beauty of myBeepr is that you can communicate something important to your whole team," says A/Prof Winston Liauw.
"It's very often the case that you need to let everybody know what's going on and if there's a task to be done."
Photography
Secure clinical photography has also been one of the most popular features of the new platform.
"Clinical photography is a big problem for all doctors in Australia," says Dr Balakrishnan.
"There are strict guidelines that need to be followed when taking patient-related photos, including tagging the photo with the date and time, four points of identification of the patient and documenting consent. Furthermore, the data needs to be encrypted and not accessible by third parties."
"We use the clinical photography feature on a daily basis", says Dr Oliver Charlton, a resident and Working Group JMO at St George Hospital.
"I can share an image of a patient and tag it with relevant details in a chat, which saves senior staff from having to also see that patient because they get all the information through the clinical photo shared" says Oliver.
Pager Replacement
myBeepr has partially replaced the LAN-paging system at St George Hospital for non-urgent communication. Staff use myBeepr on their personal smartphones (BYOD) which means less reliance on two separate devices.
"The great thing about myBeepr is that it turns our personal smartphones into a NSW Health approved communication device and doctors prefer using their smartphones it's more efficient" says Dr Frances Miao, Consultant at St George Hospital.
"There is a problem with paging," says A/Prof Winston Liauw. "Having a secure messaging system that has a contact list linked to active directory is a lot more efficient than calling switchboard or looking up rosters or contact lists."
"On a survey we conducted in 2017, LAN-paging devices were reported as reliable (6.6/10) but were considered highly inefficient (4.4/10) and associated with poor satisfaction (5.1/10)", says Krupa Bhagani, COO of myBeepr. "The biggest problem was that there was no easy way to see who has sent the message and no easy way to respond to a message."
Using myBeepr's live directory and secure messaging platform, staff have now become less reliant on the LAN-paging system. myBeepr informs the sender if a message has been read, and the recipient can instantly reply to a message.
"More often than not, knowing that the recipient has read your message is all you need to know that things are running smoothly," says Dr Oliver Charlton.
Next Phase for myBeepr
myBeepr's COO, Krupa Bhagani says the next phase in myBeepr's implementation is to integrate the platform into the Electronic Medical Record which will allow clinical photos to be automatically uploaded into the patients' medical record. 
"EMR integration will be more efficient. Doctors can avoid having to rely on Radiology or Medical Records to upload the photo into the EMR for us" says Dr Miao.
"I believe the reason for myBeepr's success is that it solves multiple problems and is customised for healthcare staff," says Krupa.