18 May 2023
Using video storytelling to connect with audiences meaningfully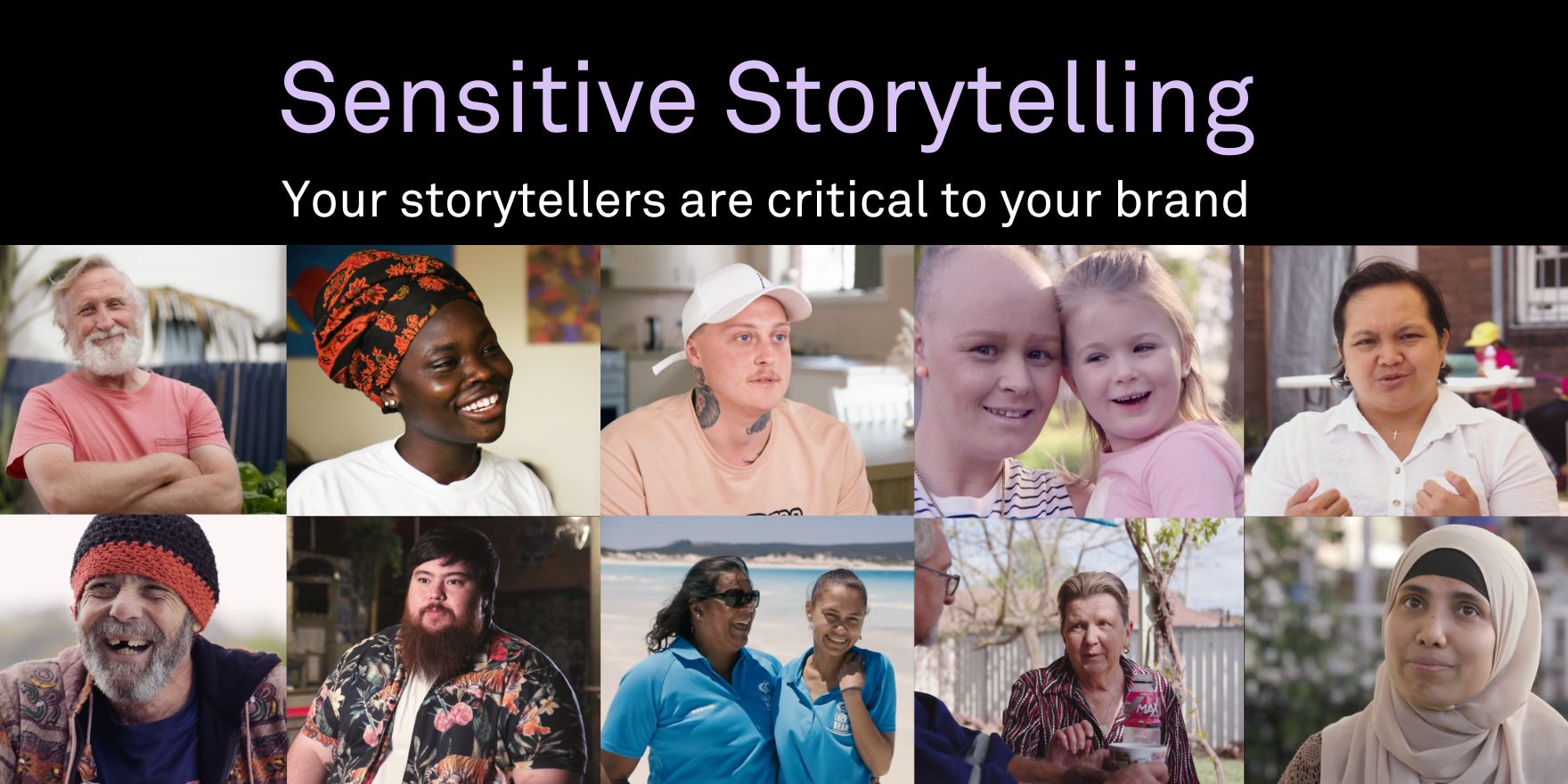 Harnessing the power of 'sensitive storytelling' in video content will give your audiences an opportunity to really connect with your brand.
A common thread amongst healthcare organisations is the need to establish an emotional connection with their audiences in a way that is still informing and trustworthy. A powerful and effective way to do this is to call upon beneficiaries of the services or products to share their stories. However, when someone generously offers to share their story we enter into a territory that requires genuine care and sensitivity. And this is something that we shouldn't take lightly.
That's why the 'sensitive storytelling' approach should be taken when creating this kind of content. Sensitive storytelling is about listening to people, understanding their emotional boundaries, and validating their lived experience.
It always blows my mind how brave people are to share their personal stories on camera and we always strive to make sure that our storytellers are well informed, feel safe, comfortable and really listened to throughout the process. It really is an absolute privilege to share their stories in a powerful and dignified way.
A quote we love is:
"Alongside the privilege of telling people's stories, we assume a great responsibility."

Winnie Byanyima
Executive Director, UNAIDS
At Laundry Lane, our 'Video with Heart' philosophy is underpinned by a sensitive storytelling approach which puts the storyteller at the centre of the production process. Our experience working with many healthcare organisations such as CancerAid, Breast Cancer Trials, Royal Flying Doctor Service, NSW Health and AbbVie has shown us the necessity of treating storytellers with empathy and respect, as many of them are sharing very personal and vulnerable experiences.
When it comes down to it, your storytellers are critical voices for your brand, so they need to be nurtured. And we know that when people feel comfortable and well informed they tell their best stories.
"Laundry Lane's empathetic storytelling approach is evident in the way they approach each project."

CancerAid
---
"Sensitive storytelling is about listening to people, understanding their emotional boundaries, and validating their lived experience. It's about giving people the room to relax in front of the camera, and to find their voice. And that takes time and patience."

Will Cordukes, Director, Laundry Lane
---
Here are some key ingredients of sensitive storytelling approach:
Consent: Make sure your 'storyteller' fully understands how the shoot will be conducted and where the video / photos will be used. Talk them through the consent form both over the phone and in person. We also should add here that the client should share the video with them for final approval before circulating.
Consultation: Whilst you might have a clear vision about what you want to achieve with the story we suggest talking with your storyteller prior to filming and asking them how they would like to share their story. By doing this you will enrich your storytelling process. All people are way more than their circumstances depict and a story that really captures the whole person will resonate more strongly with your supporters.
Empower: Create a comfortable space and opportunity for people to share their stories. Sometimes a standard interview format may not be the best approach. Talk with the storyteller and see how they are feeling on the day of filming. For example, people undergoing chemotherapy may feel well one day and very lethargic the next. Make sure they feel in control and not under pressure to 'perform.'
Listen, don't lead: We go into an interview wanting to hear certain things but it's so important to take a step back, listen and validate. The interview should be well prepared so that they can maintain eye contact and not constantly reference their notes and questions. Particularly because interviewees in these industries can be in a vulnerable place or discussing an emotional topic.
Build trust: This means allowing plenty of time before and after the filming process. From our experience it is very therapeutic for people to share their story with someone who is fully listening and validating them. Sharing personal stories can be emotional and triggering so a calm, relaxed and unrushed approach is essential. Once the cameras have stopped rolling, our storytellers often like to talk further and reflect on their experiences. Ensuring the storyteller feels valued comes from being present and showing gratitude for giving up their time and sharing their story. A rushed crew can leave someone feeling exposed and vulnerable.
Don't stereotype: Show the whole person and don't define them by their situation. Your storytellers shouldn't be portrayed as victims – they should be portrayed in a dignified manner. This is often challenging but can be overcome by really involving your storyteller in the process. You will be surprised by how much people have to offer that will ultimately bring greater depth to your campaign.
Talk to Laundry Lane about harnessing the power of sensitive storytelling.
Alexandra Cordukes Director
Laundry Lane
www.laundrylane.com
e:alexandra@laundrylane.com
m:0422291734
What is Sensitive Storytelling? click here to learn more.