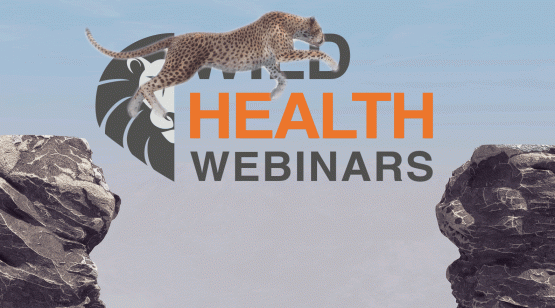 Wild Health launched its first series of online events in August. All the webinars were live, and you can now watch the recordings for free by registering below.
The events are as follows, with more detail below:
Contact talia@medicalrepublic.com.au with any questions.
Healthcare R&D – the Importance of Collaboration and Data Management for Innovation and Growth
Date: Thursday 13th August
REGISTER TO WATCH RECORDING HERE. 
There has been an increased focus in the healthcare and life sciences industry to accelerate innovation through collaboration, and is relevant now more than ever, with advancements in technology, new and complex diseases and the emergence of patient power.
How can healthcare, life sciences companies and their ecosystem partners establish this knowledge-based collaboration model, leverage technology innovations, securely exchange and analyse large amounts of data and deliver better health outcomes?
Join us for an interactive session with our expert panel, as they discuss why collaboration is on the rise, how this trend is benefiting the healthcare industry, and how they are building and leveraging these collaboration models.
Learn – 
How global research groups are collaborating on data and findings
The role of technology in enabling these collaborations – cloud, security, data analytics
Access to rich ecosystems is a key differentiator in R&D transformation
Key trends that are emerging in Asia-Pacific and globally
Featured Speakers
Mark Cowley, Computational Biologist at Children's Cancer Institute Australia
Guy Danskine, Managing Director at Equinix Australia
Kent Ramchand, PhD Candidate, Principal Cloud Strategist, Telstra Enterprise
Denis Bauer, Head Cloud Computing, Bioinformatics at CSIRO
Dr Bernard Ng, Head of Global Medical & Clinical Affairs at Bayer Consumer Health
Moderator
Jeremy Knibbs, Publisher of The Medical Republic and Wild Health
The opportunities and threats of our huge COVID-19 digital health pivot
Date: Tuesday 25th August
REGISTER TO WATCH THE RECORDING HERE.
COVID-19 has revealed digital health for what it is. Highly effective and game changing if we just can get out of the way of ourselves.  The question now is, to what extent can we stay out of our own way moving forward? How much of the collaboration and pragmatism can be maintained, how and what will have to return to business-as-usual government oversight and regulation?
You are invited to join us for a free interactive webinar on August 25th, where Wild Health will talk live to four our most important influencers and get their views first hand on how they think these issues are unlikely to unfold for our digital health professionals.
Topics covered include:
Lessons from how and why government mobilised so effectively
Lessons for how we should view and move forward on interoperability
Telehealth as the centre of the new digital health universe
How the cloud is now in play and what to watch for
Featured Speakers 
Emma Hossack, CEO at Medical Software Industry Association
Bettina McMahon, Interim CEO at Australian Digital Health Agency
Grahame Grieve, Principal at Health Intersections Pty Ltd
Professor Dorota Gertig, Medical Director of Population Health Solutions at Telstra Health
Moderator
Jeremy Knibbs, Publisher of The Medical Republic and Wild Health.
Global trends in patient data, device integration, predictive analytics and alarm management
Date: Thursday 27th August
REGISTER TO WATCH THE RECORDING HERE.
One of the promises of a modern digital hospital set up is the simultaneous management of multiple patients with multiple data points, on many integrated and co-ordinated devices. The reality has more regularly been a build-up of poorly integrated systems. With multiple digital devices arriving at a patient's bedside, the potential for fatigue and confusion among the care team is expanding rapidly.
You are invited to join Wild Health from 3pm to 4pm AEST August 27 for a free interactive webinar featuring three experts in the field talk about what progress their hospitals and hospital networks have made in this important emerging area of digital development, the issues they currently face, and how they are planning to solve the increasing complexity their hospitals will face moving forward.
Detailed topics will include:
Volume of patient data
Labour shortages and cost pressures
Alert fatigue
Physician and nurse burnout
Care team communication in chronic care management
Dealing with Legacy
Strategy of modelling for solutions in your context
Prioritising in the context of identified issues
The tools and products in play: predictive analytics, alarm
Management, mobile, distributed dashboards,
Unified communications
Operationalising the 'Silent ICU', and
ROI and investment planning
Featured Speakers
Paolo Burchietti, Project Executive at Ascom
Patricia Liebke, Clinical Information Systems Lead, Ramsay Healthcare and Digital Health Consultant
Kate Renzenbrink, Chief Nursing and Midwifery Information Officer, Bendigo Health
Moderator
Jeremy Knibbs, Publisher of The Medical Republic and Wild Health.
What if you have to do video telehealth?
Date: Thursday 29th October
REGISTER TO WATCH THE RECORDING HERE.
The COVID-19 crisis has launched us into a new era of telehealth, with very little warning. As the pandemic drags on into October there has been much discussion about its impact on the future of healthcare.
The MBS reforms coming into effect on October 1st mark the next stage of telehealth's accelerated progress. The bulk billing restriction for GPs has now been removed, which is an important new pricing signal. But GPs are only using video 3% of the time whilst specialists and Allied health are at 20% and above. The government is giving strong consideration to differential pricing next – that is, video will be incentivised via a higher payment to phone. If that happens how can you be prepared?
Topics include:
• Why GP usage so low?
• What will likely happen if differential pricing occurs?
• When video is better and why for you patient and you
• What the natural balance between video and phone telehealth should be
• What barriers exist in moving to a better balance
• The major systems in play, and how you can get started
• A path to moving your practice to a better balance between video and phone and preparing for the future
We also look forward to hearing your questions and comments in the live Q&A section of the webinar.
Expert Panel:
• Dr Silvia Pfeiffer, CEO and Co-founder Coviu, Author and Telehealth Expert.
• Associate Professor Charlotte Hespe, GP, Head of GP (and Primary care research) UNDA (Sydney) and Chair NSW/ACT RACGP.
• Dr Amandeep Hansra, GP, Founder of Evermed Consulting, Founder of Creative Careers in Medicine and Digital Health Expert.
• Dr Andrew Baird, GP, Digital Health Advocate and Tutor for Medical Students in Professional Practice at the University of Melbourne.
• Leanne Wells, CEO of the Consumers Health Forum of Australia.
Moderator:
• Jeremy Knibbs, CEO and publisher of The Medical Republic & Wild Health.