27 October 2022
Will the budget plug the holes or sink the ship?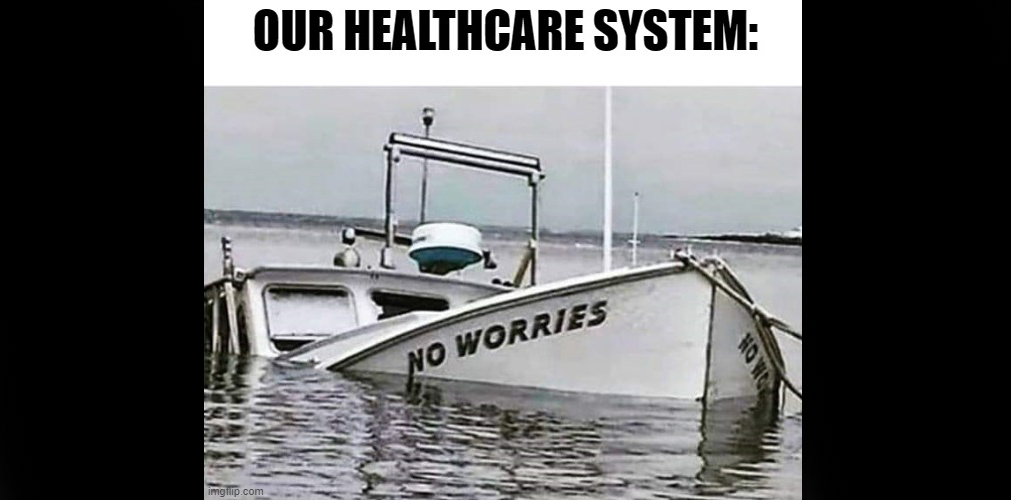 The budget has delivered some hidden opportunities for our digital health companies, with many of the funding investments requiring innovative technology to underpin the new models of care.
Unfortunately, without an overarching plan for a connected health system and the necessary reforms to deliver funding for these new models, will it again just lead to waste, duplication and yet more failed pilots?
That's right – the word that all technology companies hate the most, 'pilot', reared its ugly head again. The budget includes $100 million over 2 years to co-develop and pilot innovative models for states and territories to improve care pathways and improve the urgent care program rollout.
As anyone lucky enough to have attended the recent Wild Health Summit in Melbourne last week will know, we have no shortage of innovative models of care already operating in Australia and delivering great outcomes.
Shouldn't we be investing some of this money in building a national information repository of our pilots that have already delivered great outcomes to stop us reinventing the wheel time and time again?
A few that came up at the Wild Health summit were the Victorian Virtual Emergency Department led by Dr Loren Sher, Ben Chiarella's, Nurse Led Model of Virtual Care to deliver health care in rural and remote communities, and Dr Paresh Dawda's Integrated Health model to deliver patient centered care.
We know there are many more great models out there, so let us think about how we could build this valuable national resource and fund long-term sustainable change, rather than continuing down the pilot path with its 'stop-start' approach to funding.
As for what kind of technologies will benefit from these latest budget announcements, it's looking like we will see continued investment in our hospitals with $1.3 billion going towards covid funding, including $759.8 million for hospitals and emergency care.
We have seen $162.4 million allocated for the continuation of Medicare covid testing and telehealth service rebates, and $355.8 million assigned to the fourth dose vaccine rollout program which includes public health messaging for uptake.
Sadly, the lack of sustainable funding will mean we won't see an uptake of technology to support video calls in primary care as we still have no long-term policy directive on telehealth.
It will be interesting to see what technology will be rolled out in the urgent care clinics which received $235 million. As these clinics sit between primary care and hospitals, you would assume that to deliver interoperability and to facilitate communication between the sectors that they would need a cloud EMR which could communicate both with public hospitals and the patient's usual GP in real time. We are all looking forward to seeing both the model of care and how these clinics will be staffed.
With $750 million set aside to deliver the Strengthening Medicare Fund to provide better access and care for patients, and $229.7 million of it to support grants to build better infrastructure, it will be interesting to see if there is a willingness to invest in connecting primary care with our hospitals, aged care facilities and community health in real time as there would be enormous efficiencies to the healthcare system if this could be achieved.
It is great to see the additional $47.7 million investment over four years into the restoration of bulk-billed psychiatry services delivered by video telehealth.
Aged care has had a significant and much needed investment of $3 billion to be invested over the next four years. The majority of this investment, $2.5 billion, will provide for a registered nurse to be onsite 24 hours a day.
Again, we know little about the model of care or how these nurses will be supported by the broader health system in this role as it is assumed they will sit between the patients' GP and the public hospital system.
We would expect that the nurses would need EMR technology that could deliver real-time communication between the hospital and the patients' usual GP as well as an integration with a cloud medication management system to deliver that single source of truth. The devil will all be in detail, let us hope they have thought it through as these nurses will need back up in what will be a very stressful role.
Whilst it is great to see the government invest in innovative new models of care, without a plan to deliver funding for collaboration and the ability to communicate digitally across the system, I wonder; how much benefit to the system can this investment really deliver?
If you're interested in the topics of health reform and digital health strategy, Wild Health Melbourne 2022 post event content is available for purchase here – $195 (inc gst). ?